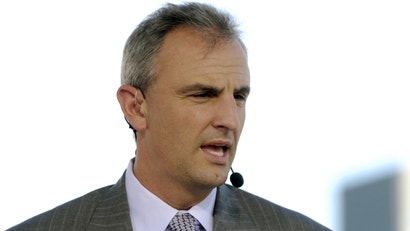 In a series of revelatory tweets spotted by Operation Sports yesterday, Hal Chapman Wingo III, better known as "Trey", the host of ESPN's NFL Live studio show, said he would be appearing in Madden NFL 13.
Wingo tweeted a picture of a green screen set for Madden NFL 13, as well as details of a hotel in and flight out of Orlando, Florida, where the game is made. Asked directly by a fan, "Are you going to be in the game, Trey?" he replied "Yes."
Wingo is not a play-by-play commenter, so his tip-off indicates some kind of studio-format content, and the picture he tweeted would seem to indicate some sort of video inclusion, as opposed to his colleague Rece Davis, who will be doing voice-only updates of scores and results in EA Sports' NCAA Football 13.
What will we be getting? A studio show? Weekly roundup? Madden's mum. Bet we'll hear more about this as E3 bears on.
Madden NFL 13 to Feature Trey Wingo of NFL Live [Operation Sports]