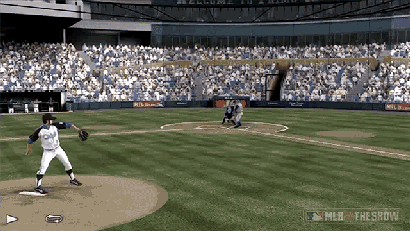 After shaking off a line drive to the face, I finished out my rookie minor league year in MLB 12 The Show's Road to the Show with an unblemished record, 10-0 in about 16 starts at two classifications. The team still lost games I started but, somehow, they managed to at least get me out of the decision before doing so. My player was given the ball to pitch an elimination game in the first round of the International League playoffs.
One thing The Show does that drives me crazy is, frankly, there are a lot of foul balls in this game. It's something I'm going to be looking into in greater detail once I get some data back from actual major league games. But it could simply be that it's easy to throw pitches inside the strike zone, and foul balls are therefore more common because the pitch is in reach.
But it's built up to the point that, when I do strike out a batter, especially looking, I feel as much satisfaction as I do relief that the guy simply didn't swing. After thinking on it, I took that thought to Curt Schilling over Twitter. Schilling is the founder of 38 Studios, which recently released Kingdoms of Amalur: Reckoning. He's also a six-time Major League Baseball all-star pitcher, and three-time world champion. Schilling has really aspired to transparency and response in his new role, so it wasn't too surprising when he replied.
For some reason, it struck me as a little profound. And I think it may point to the fact that, in your early years, you don't know the hitters in the minor leagues because they're all bot characters. I may be leaving things in areas where they can foul them off or drive them and just not know it.
So I look forward to getting myself to the major leagues, where I do know more of the hitters, and working 0-2 or 1-2 counts on them. With any luck, I'll be the only one participating in the at-bat.