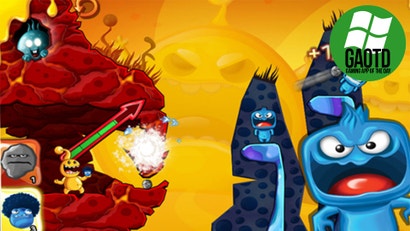 When physics puzzler Monster Island first launched on Windows Phone 7, it featured an Xbox Live Achievement that required the player to purchase items from the in-game store in order to unlock it. This caused Microsoft to pull the game from the marketplace just two days after release.
Four weeks later it returned, the achievement that required players to spend $3 replaced with one revolving around coins earned in-game, and now Windows Phone 7 players can enjoy this challenging puzzler without paying to collect all 200 Gamerscore points.
This is fortunate, for Monster Island is truly an excellent entry in the throwing things at other things category. Players step into the claws, paw and tentacles of a number of colourful creatures as they fling bombs, glue, rocks and other portable instruments of destruction in an effort to clear each of the game's 252 levels of enemy monsters.
Unlike Angry Birds, Monster Island isn't about widespread destruction. This is a game that focuses on precision aiming and clever Rube Goldberg-esque puzzles, challenging the player at every turn. Simple bomb tossing quickly evolves into a more complicated juggling act, requiring a steady aim and expert timing.
The only downside I could find to the blazing-fast physics puzzler is that each island features far too many levels. Where other games give you 20 to 30 stages in a given environment, Monster Island packs 65 in the first island alone, which isn't particularly friendly to players like me that uses stages as stopping points.
Still, Monster Island is definitely one of the better titles available for Windows Phone 7 (and iPhone). Not convinced? Head over to Miniclip.com, where a Flash version of the game is available for your bomb-flinging enjoyment.
Monster Island ($3.49) [Windows Phone 7] Monster Island ($2.99) [iTunes]