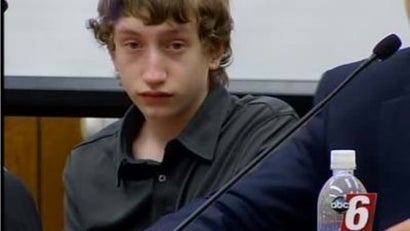 It's been a cheerful few days for video game crime news, hasn't it? First was the teenage father who sawed a former friend's neck down to the trachea over some Xbox Live name-calling. Now an Iowa boy says he killed and attempted to rape his mother after she took away Call of Duty.
That's according to the 911 call 14-year-old Noah Crooks of Osage, Iowa placed on March 24, 2012, the night he shot his mother 20 times. It was played in court this week as his trial began. His mother, Gretchen Crooks, had confiscated his video game about three hours before she was shot to death, an act believed to spark the fit of rage that led to her killing. It was the first homicide reported in that town since 1898.
"I'm not joking at all. She's dead. I'm scared. I killed my mum with my .22. I don't know why I did it," he told the 911 dispatcher. "I tried to rape her. I tried to rape her but I couldn't do it." He spoke of playing Call of Duty and said his mother took it away because he got bad grades. "Something just came over me," he said.
Crooks shot her with the .22 rifle he was given as an 11-year-old. Considering a five-year-old in Kentucky just shot his two-year-old sister to death with a candy-coloured, small-size .22 rifle made especially for children, one would think this type of product or gift-giving practice should come in for a public arse-kicking, but I doubt it will.
The defence opened its case on Friday with testimony from Noah Crooks' friends, one of whom played Call of Duty with him online. The testimony is meant to establish some type of rapid change in Crooks' behaviour. Despite constant references to an attention deficit disorder and the rambling 911 call in which he appears divorced from reality, he did say, "I feel crazy and I know I'm not."
Jury listens to 911 tape during testimony in Crooks case [Mason City (Iowa) Globe Gazette, via Destructoid. Image via KAAL-TV.]