Let's Put This 'Mobile Gaming Is Killing Consoles' Argument To Bed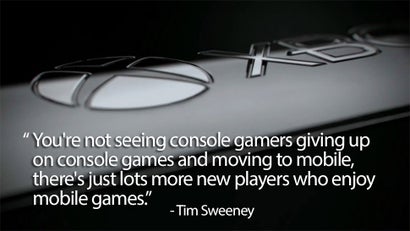 Epic's Tim Sweeney gets to the point, and shows the inherent problem in giving two shits about "market share".
Epic's Sweeney: Studios need to react to the changing industry to survive [Gamasutra]
---
Trending Stories Right Now
The Classification Review Board - which operates as a separate body to the Classification Board itself - has finally published the reasoning for its decision to overturn the RC rating for We Happy Few. In its report, the review panel noted that the game "quickly establishes" that the hallucinogenic state induced by the drug Joy was "undesirable" and that the game's overall quest was to "avoid the use of the Joy drug".
Thanks to the work of modder James Dickinson, Gearbox's notoriously awful Aliens. Colonial Marines can now be played as something other than a form of punishment. You can imagine Dickinson's uncovered some nutty bugs in his time poring over the game, but none hold a candle to a single-letter typo that lobotomised the Xeno AI.