Let's Put This 'Mobile Gaming Is Killing Consoles' Argument To Bed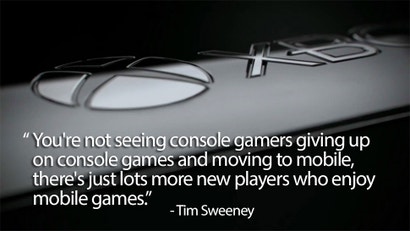 Epic's Tim Sweeney gets to the point, and shows the inherent problem in giving two shits about "market share".
Epic's Sweeney: Studios need to react to the changing industry to survive [Gamasutra]
---
Trending Stories Right Now
The Twitch community was appalled when live on stream MrDeadMoth seemed to physically hit his (apparently pregnant) wife live on stream - all in front of their child.
Triple AAA games nailing the brief. Indie games surprising people out of nowhere, and expansions and patches that completely turn a game around. It's been a good year for games - now it's time for you to vote for your favourite.