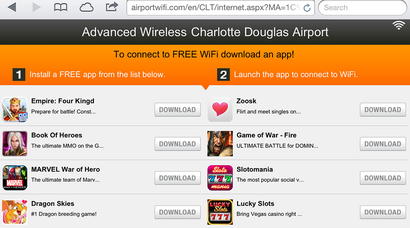 Some airports charge you for Internet. Some don't (Daytona Beach International Airport, you rule!). And then there's the rocking-chair-filled Charlotte airport, which makes discriminating gamers pay a heavy, heavy price. I tried to log onto Charlotte's free, magical wireless Internet this past Sunday, and I hit the obstacle you see screencapped above. I had to download a free game? To get online?
These games looked crappy. Or at least they seemed like they were not for me. Yes, one of them is the self-described "#1 Dragon breeding game!", but I do not care for such things.
Hmm.
Would you have gone for the non-game? The flirting app?
I downloaded the Marvel game, confirmed that I was online and then promptly deleted it from my iPad.
Since I sync my apps across my iPhone and iPad, I only realised this morning that the Marvel game was now on my phone. Spreading like a disease! But spreading no more. I just deleted it.
Well-played Charlotte airport. Better that than a Boingo hotspot. But, good lord, offer some better games next time.