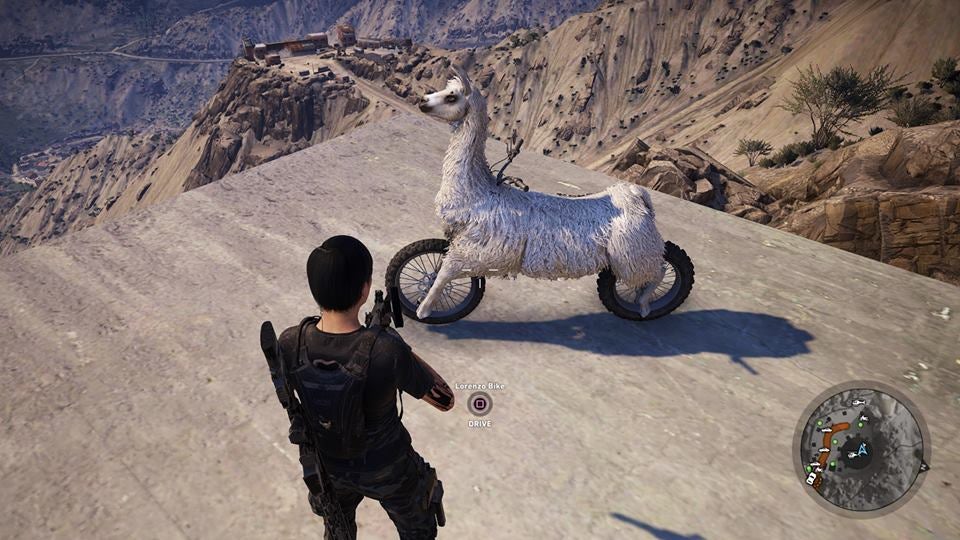 I was originally disappointed with Ghost Recon: Wildlands' first expansion, "Narco Road," but I recently decided to give it another shot. I spent most of my evening riding an unexplainable hybrid of dirt bike and llama.
Is it a llama? Is it a bike? I'm not sure what to call it, but it makes nervous me-eh-eh-eh sounds as you hit full speed and shoots rainbow smoke from its butt when you hit the nitrous.
If you own "Narco Road," here's how to take the llama bike for a test drive. Head to the Los Jinetes Locos section of the map. Your best spawn point is the Pucara Charlie rally point. You'll want to spawn a helicopter and fly down to the Santa Muerte Tomb location. Park on the very top of the tomb, and the llama bike will be waiting for you.
I landed several high jumps in the mountains without dying or being thrown from the bike, and I hopped over cars when I took the bike on the road. I thought maybe the special bike was indestructible, but I sadly report that the llama is not bulletproof: A Bolivian cartel drove by and spoiled my fun, chasing us down until my llama caught fire. RIP llama bike, you were the best part of "Narco Road."