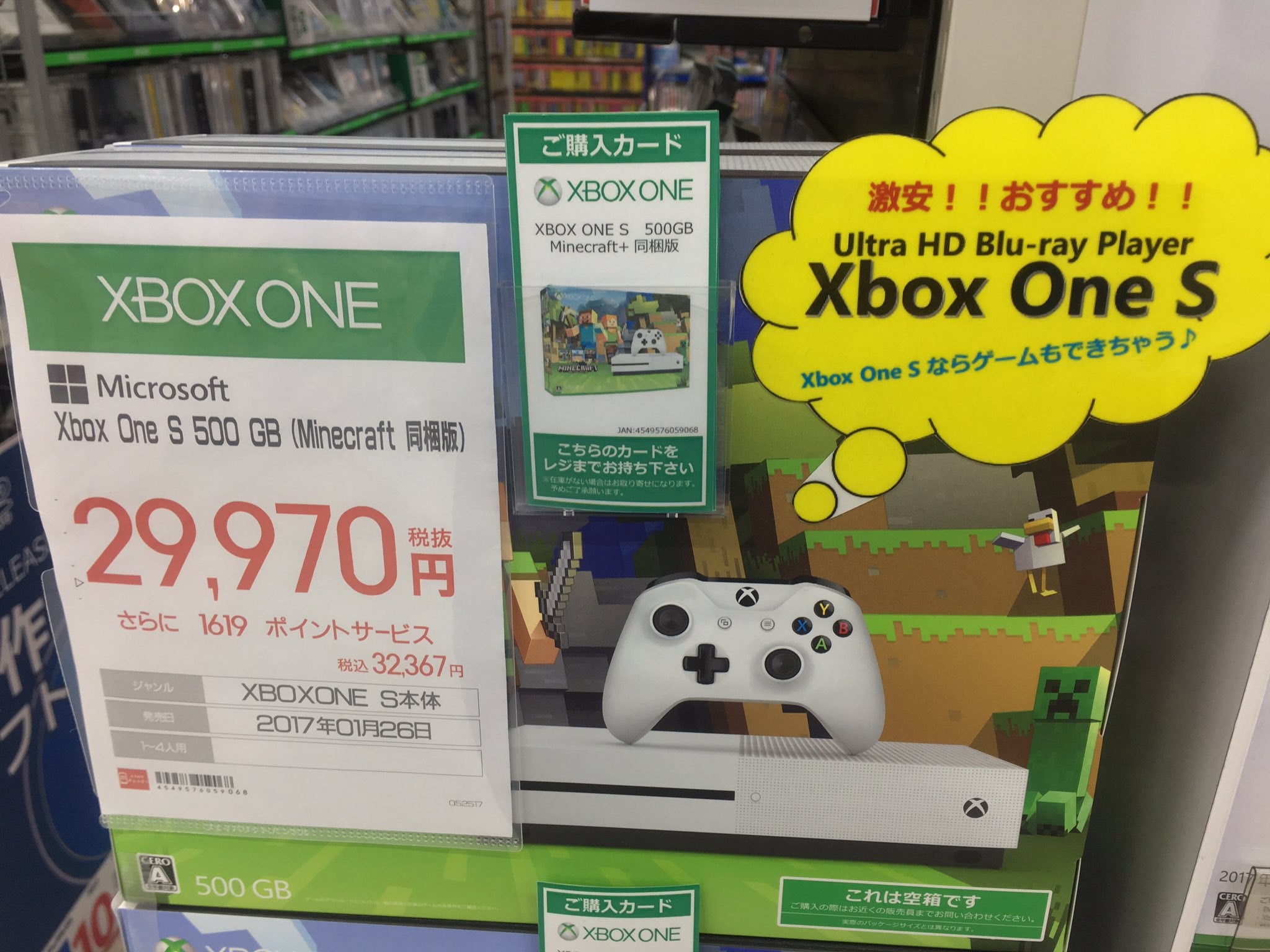 [Image: Faster4Real]
Yes, things are terrible for the Xbox One in Japan. Everybody knows that. But did you know that one major retailer is selling the console as an Ultra HD Blu-ray player?
The Bic Camera in Yurakucho, one of the biggest electronics stores in Tokyo, is selling the Xbox One S as first and foremost an Ultra HD Blu-ray player. The photos below were snapped by YouTuber Gaijin Hunter.
Desperation: selling the Xbox one S as a movie player pic.twitter.com/hT7NIx1KIM

— Gaijinhunter (@aevanko) September 7, 2017
The top of the notice reads "Super Cheap!!" and "Recommended!!" The bottom part of the notice reads, "If it's Xbox One S, you can also play video games." It's like the playing video games part is an added feature, not the feature.
xbox oneあまりにも不人気過ぎてビックカメラが斬新な売り方してる pic.twitter.com/RlO2UfMJDA

— フレッドペリ男 (@Faster4Real) July 15, 2017
But is this sales pitch working? Well, the most recent weekly Xbox One sales for Japan clocked in at 63 units sold...
However, this Twitter user claims to have bought an Xbox One S to watch hit anime Your Name on UHD BD.
君の縄のUHD BD観るためだけに買ったXbox One Sが届きました() pic.twitter.com/FV3nrJPHs5

— ぶん (@bun6339) July 28, 2017
While this Twitter user picked up an Xbox One S after getting a 4K television.
先週4k HDR対応テレビ買った〜!!♪(๑ᴖ◡ᴖ๑)♪
とにかくめっちゃ綺麗☆

そして4k UHD Blu-ray再生用にXbox ONE S買いました(笑)
PS4 Proは残念ながら4kBlu-rayのドライブ非対応だから泣く泣くの出費(´;ω;`) pic.twitter.com/1K37YiIwCL

— ぽっすぃー⸜( ´ᐞ` )⸝♡ (@hossy1783) August 19, 2017
This is one of the cheapest Ultra HD Blu-ray players you can buy in Japan, so maybe this is helping sales, however small they are.