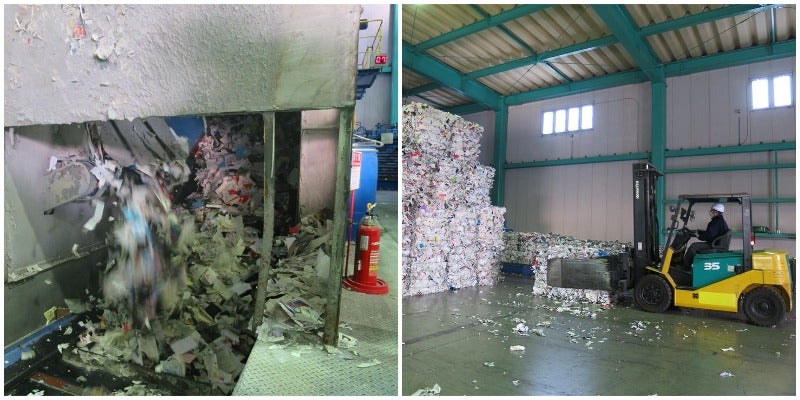 Ever wonder what happens to unwanted manga? Here, it gets torn into pieces to make toilet paper.
Images: rereibara
Manga artist Rensuke Oshikiri recently visited a warehouse publisher Kodansha manages. (Full disclosure: My first two books were published by former subsidiary Kodansha International.)
The warehouse holds returned and defective manga volumes. Workers feed the manga volumes into a shredder, with, as Oshikiri explains, "their fate being recycled into toilet paper".
売られることも無く裁断を待つ単行本たち。今日も明日もこの工場にたくさんの本達が運ばれてくると言います。さすがに精神にくるものがありましたが、作家や出版関係の方々は自分の目で一度見るべき光景だと思いました。 pic.twitter.com/IPnEj9PLTZ

— 押切蓮介 (@rereibara) February 1, 2018
先日、講談社が管理する工場に行ってきた。ここには返品や不良品と化した単行本たちが容赦なく裁断される恐るべき場所である。けたたましい轟音と共に作家の魂とも言える単行本たちはバラバラにされ、ひとまとめにされ、再利用としてトイレットペーパーになる運命にある。中には己の単行本の存在も。 pic.twitter.com/HKg0rtZYPC

— 押切蓮介 (@rereibara) February 1, 2018
Oshikiri added that some of his manga were also included in the recycling bin.
"As you'd expect, there were [other] ones that touched my soul, and I thought that manga creators and people in the publishing business should come one time to see this sight with their own eyes."