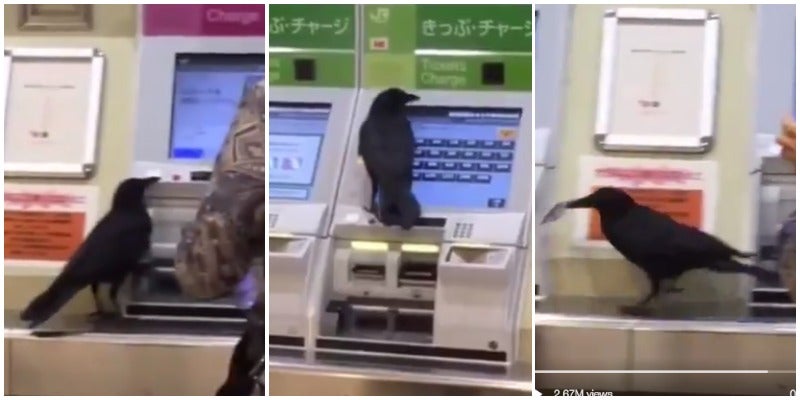 Why fly places when you have access to excellent Japanese public transportation? While this crow probably wasn't thinking that, it did look like it needed help buying a ticket.
Screenshot: Kinoshita
It even took a woman's charge card. Have at look at the footage Twitter user Kinoshita filmed.
「窓 カラス」
カードを使って電車????に乗ろうとしたカラス????
連休かみさんが、東京で遭遇した出来事でした。笑 pic.twitter.com/Y2yDtOTae9

— kinoshita (@kinoshi42155049) May 1, 2018
The whole thing even made the news!
今、テレビに使用されてましたね! pic.twitter.com/OkKr6EyUJi

— 夕陽 (@struggle1345) May 3, 2018
Crows are no strangers to Japanese public transportation.
Crow inside Kinshicho Station
カラスが切符を買う途中
ゴールドウィーク どこへ行けばいいなぁ https://t.co/G5EIoPJlrQ pic.twitter.com/IFOg5pp88N

— Saki Akane (@sakiakaneuk) April 29, 2018
今朝の錦糸町駅構内????
カラスが切符を買おうとしていました。電車に乗りたいのかなぁ????
#錦糸町駅#カラス pic.twitter.com/Y1AgoBoH3f

— かつら美容師 (@flatease4002) April 20, 2018
Can someone help this crow drink this bottled beverage?
めっちゃかわいいカラスいた???? pic.twitter.com/3kCGhlm3bA

— はなえ (@Hanae_65) May 3, 2018