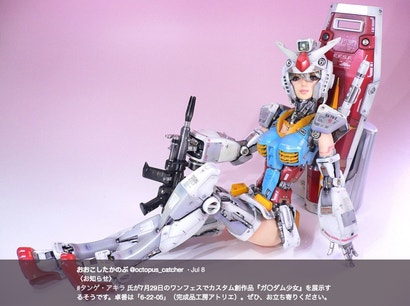 Screenshot:
octopus_catcher
Maybe it would look something like this. Custom model maker Akira Tange originally created this piece titled "Gundam Shojo" for Japan's Wonder Festival figure event.
Have a look:
〈お知らせ〉#タンゲ・アキラ 氏が7月29日のワンフェスでカスタム創作品『ガ〇ダム少女』を展示するそうです。卓番は「6-22-05」(完成品工房アトリエ)。ぜひ、お立ち寄りください。 pic.twitter.com/QeZvj9SEBj

— おおこしたかのぶ (@octopus_catcher) July 8, 2018
However, according to Twitter user Octopus Catcher, it now seems this piece won't be at Wonder Festival. Bummer!