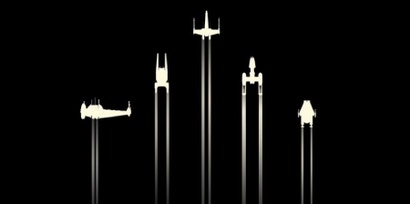 From the "cover not final" (but still pretty evocative and cool, no?) image for
Alphabet Squad.
(Image:
Twitter
)
Big reveals from New York Comic Con for fans of Star Wars on the printed page: a Darth Vader-focused comic miniseries from Chuck Wendig; Alphabet Squad, a new novel from Alexander Freed about "Rebel pilots hunting down Imperials;" and gorgeous cover art for the previously-announced Master & Apprentice by Claudia Grey.
Let's go through them, one by one!
First up, that five-issue comic series from author Wendig, best-known to Star Wars fans for the Aftermath trilogy: Shadow of Vader.
Each issue of the Marvel miniseries will follow a different character or group (including, for one issue, the Acolytes of the Beyond, a weird group of Dark Side cultists who made a brief but very intriguing appearance in Wendig's Aftermath series), and reflect on how encounters with the titular Dark Lord of the Sith affected their lives.
— Chuck Wendig (@ChuckWendig) October 5, 2018
Then, the new novel. This is not the final cover and of course, and plot details are still somewhat scarce, but it's an intriguing premise:
Coming next year. @AlexanderMFreed ALPHABET SQUADRON. Rebel pilots hunting down Imperials. pic.twitter.com/ZuY5YifYlH

— Star Wars Books @NYCC (@DelReyStarWars) October 5, 2018
According to the panel, Alphabet Squadron (named because, of course, each pilot flies one of Star Wars iconic letter-designated starfighters) will be set in the early days of the New Republic era after Return of the Jedi, as five pilots form a group to hunt down rogue Imperial elements.
It's a time period we still don't know a lot about, and exploring it through the lens of hardened pilots chasing down Imperial extremists sounds fascinating.
Finally, Alice X. Zhang's stunning cover art for Claudia Grey's previously announced Master & Apprentice novel, the subject matter of which should be fairly obvious. It's out in April 2019:
Finally revealed. The AMAZING cover for @claudiagray #StarWars Master & Apprentice coming April 2019. Art by Alice X Zhang pic.twitter.com/TXe8d8ISre

— Star Wars Books @NYCC (@DelReyStarWars) October 5, 2018
Bonus shot of "right cosplay, right time."
We needed a little help unveiling some awesome new cover art. #MasterAndApprentice #Booth2104C pic.twitter.com/ahh9eNalrI

— Star Wars Books @NYCC (@DelReyStarWars) October 5, 2018
We'll bring you more on these new titles — especially those Vader comics — as we learn more about them.