For the past two years, Crunchyroll and Funimation have been sharing anime broadcasts via a cross-licensing deal. Variety reports that agreement is over. Bummer.
Sony-owned Funimation has decided not to renew. The reason? According to Funimation president and CEO Gen Fukunaga in an internal memo, Sony is increasing inventions in the streaming company in order to make it "a global sub and dub anime brand." Fukunaga added that Funimation and Crunchyroll parted ways "amicably this month."
One of the reasons cited for #Funimation & #Crunchyroll breaking up was Sony wanting to take Funi in a different direction. Here's a chart I made to show Funi's place in the Sony family. pic.twitter.com/FPLF75ApVm

— SpookyX (スプーキーエクス) ???? (@HelpMeHekuta) October 18, 2018
This means that the Crunchyroll's VRV bundle service won't have Funimation Now starting November 9. Because of this, some shows will leave both Crunchyroll and Funimation, but as ANN points out, Funimation Now subscribers will get access to, according to Fukunaga's internal memo, "several hundred" titles starting November 9.
The good news, though, is that Hidive has inked a deal to become part of the VRV bundle.
Funimation (via ANN) confirmed the dissolution, adding that sub simulcasts could start as early as next season.
Many fans seem saddened — or, at least, annoyed — by the break-up, because this might mean you'll need both Crunchyroll and Funimation accounts.
Broke: Funimation ending partnership with Crunchyroll

Woke: HIDIVE beginning partnership with VRV, meaning all Sentai exclusive shows like Made in Abyss, Land of the Lustrous, Legend of the Galactic Heroes, and this season's Bloom Into You will be so much more accessible

— PhenomSage (@PhenomSage) October 18, 2018
Crunchyroll-hime: Do you love me?
Funimation: Only partly, I only love my bed and my Sony I'm sorry.

— YonkouProductions (@YonkouProd) October 18, 2018
With Sony in control of Funimation the split with them and Crunchyroll makes more sense now it's a damn shame though I really liked VRV it was the best of both worlds but it looks like that subscription will have to end and go back to dual subs to both again man this really blows pic.twitter.com/tcGncfE6j7

— iSoH Spooky (@JustiSoH) October 18, 2018
So VRV's switching out Funimation for Hidive, huh? pic.twitter.com/SCeXr0qXFL

— Spook Wink-hell⁉️(Hairy Anthony Israel) (@blockwonkel) October 18, 2018
So @WatchVRV is losing Funimation, but gaining Hidive. Before, I was double-paying for Crunchyroll and VRV. Now, with this exciting news, I'll be double-paying for VRV and Hidive!!

— Mike Toole (@MichaelToole) October 18, 2018
subscription costs aside (i had both anyways) this is probably going to lead to major delays/less series being translated on account of licensing issues

@ sony why

— yayi @spoopy hell (@mintybytes) October 19, 2018
Crunchyroll "Wow Funimation, i love this pact we have!"

Funimation "Yeah let's be friends forever!"

Sony – "Betray them" pic.twitter.com/1OAdYVU1UU

— Dakota Ghoulskie ???????? (@DakotaBroskie) October 18, 2018
Just to illustrate how absolute shit Funi is for those outside the US. This is what happens when I try to just access https://t.co/MgC4BcxnQJ. They effing geoblocked their entire website. Are you shitting me. pic.twitter.com/QMdRWn1Xjt

— Swedish Spooky Fish (@SwedeRobotFish) October 18, 2018
Damn the deal between Funi and Crunchy is ending.
I only hope when DB anime returns, we can watch it properly without the service crashing.

During the run of DBS, Crunchy would often not work for hours, Daisuki was a good alternate around the time.https://t.co/eycnGhJPj8

— Ken Xyro | ᕕ( ᐛ )ᕗ???? (@KenXyro) October 18, 2018
Here's my response to Crunchyroll and Funimation no longer being partners:

I have Hulu.

— BlueEyes (@BlueEyed1412) October 18, 2018
Crunchyroll x Funimation Breakup in a nutshell pic.twitter.com/3YHwRrx79q

— Al. Lopez (@AL2009man) October 18, 2018
Funimation leaving VRV is probably one of the worst things I've seen all week.

I used VRV specifically because it had both the subbed and dubbed anime that I wanted to watch. To say I'm a little peeved would be an understatement… pic.twitter.com/DSeiIYTBad

— Alejandro Pupo (@alejandropupo_) October 18, 2018
or be me and have Too Many Anime Streaming Accounts

— LauRun with the Wind (@laureninspace) October 18, 2018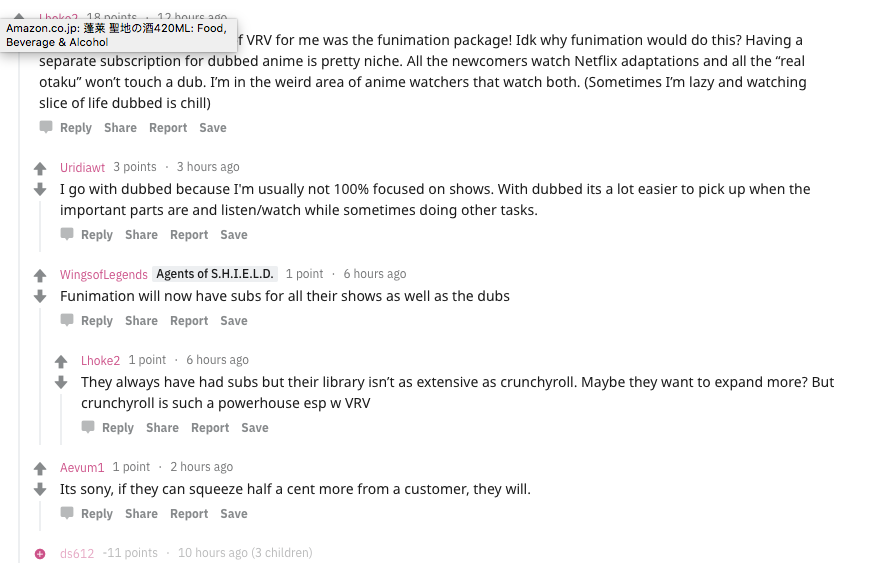 r/television" loading="lazy" > Screenshot:
r/television