As always with Stranger Things, the third season saw Eleven and the gang hunted by another demon from the Upside Down. But it wasn't a singular Demogorgon or a pack of hungry Demo dogs. No, this time, it was the shadowy-then-very-gooey Mind Flayer itself.
But, while we could deep dive into what was and wasn't good about this season, I'd rather focus on the transformation of one particular character who finally got her ticket to the show.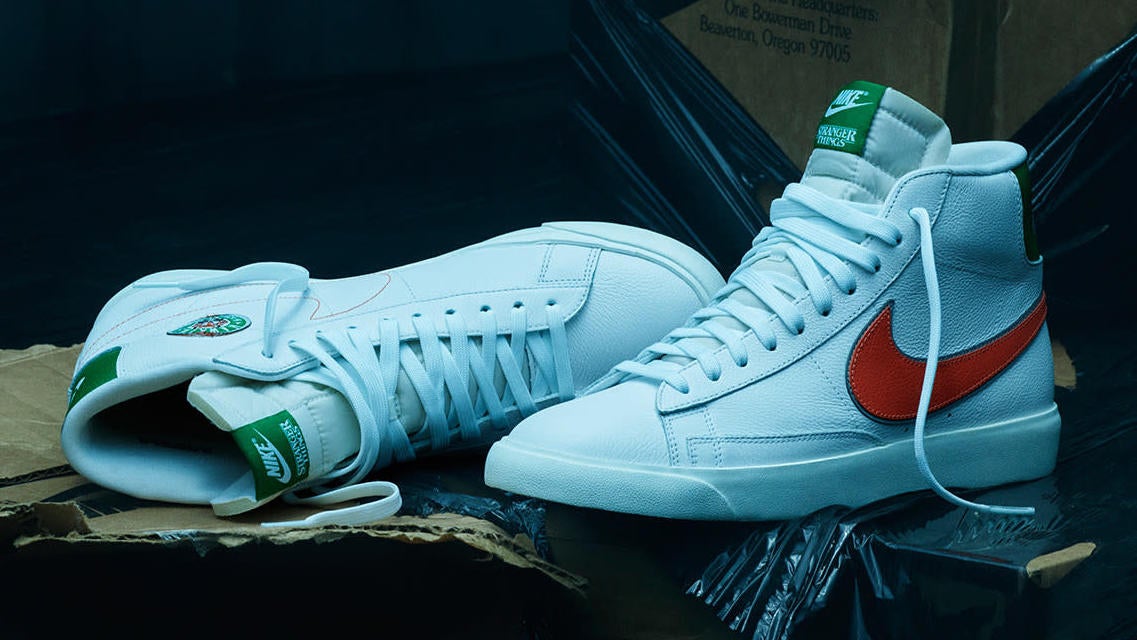 Because pop culture tie-ins are an adult sneaker thing now, Nike is releasing a line of shoes based on Netflix's Stranger Things. Thankfully, they are a lot more tasteful than the announcement itself might have you believe.
Read more
Steve Harrington and Chief Hopper often dominate lists for internet's favourite Stranger Things characters, but in Season Three Hopper's negative and controlling attitude left me feeling grated. Steve took a backseat as well, courtesy of Operation Child Endangerment mastermind, Scoops Ahoy's Robin.
But one of the third season's best performances came from a sleeper character, someone who has gone under the radar for far too long: Winona Ryder's Joyce Byers.
here's Joyce Byers saying "good day" in a loop #StrangerThings pic.twitter.com/lgAwLcJpod

— best of winona ryder (@BESTOFWlNONA) July 9, 2019
She always sniffs out a conspiracy
Image: Netflix
You can sum up Joyce's storyline in Season Three in a few simple words: Detective Byers and magnets. As always, Joyce was one of the first to realise something was rotten in the state of Hawkins when her magnets repeatedly kept losing their polarity. Like a true detective (unlike you, Hopper), she decided to see if she could rule out the phenomenon with an ordinary explanation by consulting her son's science teacher, Mr. Clarke.
When Mr. Clarke said the only feasible explanations were apophenia, seeing patterns where there are none, or the existence of a huge electromagnetic field in Hawkins, she knew it was time to investigate.
But even after confirming the conspiracy with Hopper, she continued to quiz the lovable Russian captive, Alexei, on the meaning behind the falling magnets. That hunger for the truth, even after multiple people have called her crazy, is what makes her one of the show's most important characters.
For the third consecutive season, Joyce has been one of the first to sniff something's not right. She communicates with Will through the Christmas lights in Season One and while it's an absolutely bat-shit crazy move, it turns out to be completely on the money.
Image: Netflix
Later, in Season Two, she's one of the only ones to suspect something's not quite right with Will and believes it's to do with the Mind Flayer's effect on him. The third season is the same old Joyce; a small town mum with laser sharp intuition.
Hopper's no fun without Joyce
Hopper transformed into a full blown alcoholic in Season Three, refusing to let Eleven and Mike's adolescent love flourish, intimidating Mike and just being an abusive thug. Thankfully, in the latter half of the season, he teams up with Joyce on their hunt to figure out what the hell is going down and we start to see a bit more of the old Hopper.
And while we could have certainly done with less bickering to get there, which Murray Bauman comically points out is probably sexual tension, it further highlighted how integral Joyce is to the show and to making Hopper more likable.
Image: Netflix
Joyce has a tough exterior but a smooshy interior
While she's stern when it matters, Joyce is an angel at heart. She helps a hopeless Hopper with his daughter issues and later tends to his wounds after he's savagely beaten by Russian baddie, Grigori. Later, however, when Hopper is beating information out of corrupt Mayor Larry Kline, a ruthless Joyce stops the receptionist from calling the police.
Her ability to switch between soft and goofy to absolute savage as Detective Byers far exceeds any Hopper first fight (of which, there are plenty). Between Joyce yelling at Murray for wasting her time and the CIA for not taking her end-of-the-world lead seriously enough, she's a force to be reckoned with and we, the audience, are better for it.
With the finale of Season Three indicating Hopper might very well be alive as a prisoner in a top-secret Russian facility, it's a job only a seasoned amateur detective like Joyce Byers could manage.