Subscriptions are all the rage, and it's easy to see why. Everyone loves a "buffet" model for content — see Netflix, et al — where you can just pay a single reasonable monthly fee for unlimited access to a body of stuff you're interested in, be it documentaries, 90s-era TV shows, or (now) apps.
You'll soon be able to subscribe to major services from Apple and Google, which will let you pay a single monthly fee to access lots of apps that would normally cost you money to buy or subscribe to individually. And these services — at least, Apple's so far — will also let you play games that you won't find on competing smartphone platforms.
Neither Apple nor Google have spilled the full details of their services yet. (Heck, Google is just starting to test its own offering, Google Play Pass.) With the smartphone wars getting ready to heat up again this fall, both offerings are incredibly compelling reasons to pick one platform over the other. But which do you go with? Let's examine everything we know about these subscription services so far:
Apple Arcade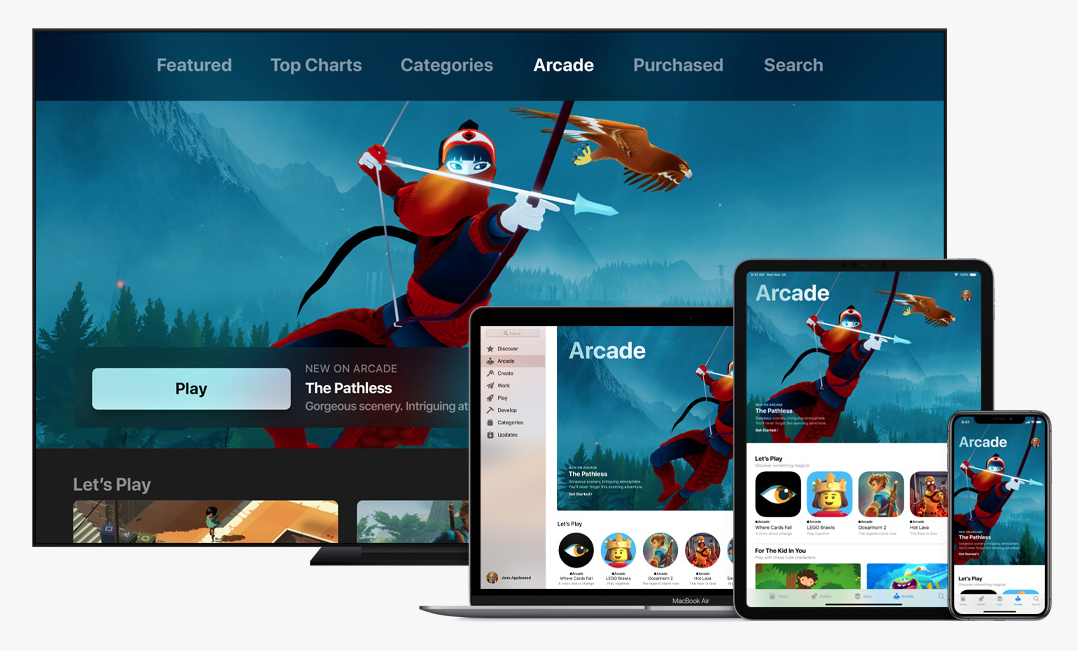 Apple" loading="lazy" > Screenshot: David Murphy,
Apple
When Apple Arcade debuts — possibly alongside the expected September release of iOS 13, but potentially as late as November (and potentially even later for our Australian readers) — it'll (obviously) be geared for games, not apps.
Apple hasn't announced pricing for the service, but I'd expect eager gamers will have to cough up at least $10 monthly for the pass. That's comparable to what Apple charges for Apple News+, and it would put the subscription service right in the middle of competing entertainment services like the slightly more expensive Netflix, Google's Stadia streaming service and Microsoft's Xbox Game Pass service (just for consoles).
Since Apple is big on services nowadays, as they represent roughly twenty per cent of the company's revenue and offering some slight relief for slowing iPhone sales, a $10 monthly subscription fee feels right. Any higher, and I'm not sure an overwhelming number of gamers will be very inclined to pay $15 for smartphone games — no matter how interesting or exclusive they are — when they can have a more compelling subscription service in front of their TVs.
Similarly, I doubt you'll see this service priced at $5. Apple wants more revenue than that, and it also wants to establish Apple Arcade as a premium product. From a marketing standpoint, a mere five bucks a month doesn't make the service appear all that fancy, even if it would be a great deal for smartphone gamers.
Above all else, the most compelling reason to pick up Apple Arcade — beyond the list of games, which I'll get to in a second — is that these titles will be free of bullshit mechanics like in-app purchases to bypass progress, annoying timers that gate your gameplay, or irritating video advertising. If you're tired of seeing these in every title you play, maybe $10 a month (or whatever) doesn't sound so bad after all, especially when game developers start designing exclusively for this kind of a setup instead of stripping free-to-play titles of annoyances and relaunching them in Apple Arcade.
As for the games themselves, here's the list of Apple Arcade titles the company has confirmed so far, courtesy of Macworld:
Atone: Heart of the Elder Tree

Beyond a Steel Sky

Box Project

Cardpocalypse

Doomsday Vault

Down in Bermuda

Enter The Construct

Fantasian

Frogger in Toy Town

Hitchhiker

Hot Lava

Kings of the Castle

Lego Arthouse

Lego Brawls

Lifelike

Little Orpheus

Mr Turtle

Monomals

No Way Home

Oceanhorn 2: Knights of the Lost Realm

Overland

Projection: First Light

Repair

Sayonara Wild Hearts

Shantae 5

Sneaky Sasquatch

Sonic Racing

Spidersaurs

The Artful Escape

The Pathless

The Bradwell Conspiracy

UFO on Tape: First Contact

Where Cards Fall

Winding Worlds

Yaga
There's no word yet on which ones are exclusive titles, if any. And this isn't the final list, either. Expect to see around 100 games or so arrive with Apple Arcade's official launch.
Google Play Pass
We just heard that Google started testing its own app subscription service today, so we're still ironing out all of the details. First, and most importantly, note the use of the word "app" instead of "game." That's intentional, as Google Play Pass will give you access to a lot more than just games on your device. According to Google's description of the service, which a tester sent along to Android Police:
Explore a curated catalogue spanning puzzle games to premium music apps and everything in between. From action hits to puzzles and fitness trackers, with Google Play Pass you unlock access to hundreds of premium apps and games without ads, download fees or in-app purchases.
While we don't have a full list of apps or games on the service, or even the ones Google is initially testing, a cursory look at some of the app icons in Android Police's screenshots indicates that Google appears to be unlocking access to titles you can already find within Google Play: games like Stardew Valley, Terraria, and Monument Valley, for example.
These are also all titles that also exist on iOS, so it appears that Google is focusing a little less on the exclusivity of its subscription service. I would still expect Google to have some Android or Play-Pass-only apps and games to entice people to sign up. At the very least, I'm sure there will be some exclusive deal or two that brings an incredibly popular app under Google Pass (crossing my fingers for Spotify, even though that'll never happen).
As for the price, Google's early test lists the Play Pass at a mere $US5 ($7) per month — an incredible value that basically means you're paying the equivalent of one high-quality app or game a month for access to a lot, lot more. That feels like a reasonable purchase for most people. Heck, that's one-and-a-half Stardew Valleys (a game you will already sink way too many hours into if you get hooked).
That's not saying that Google (or Apple) charging $10 per month for a subscription service would be out of the question. The actual difference between $7 and $15 a month is minimal — just another coffee or two — but the perception of that difference is huge. I know I'd be a lot more amenable to paying $7 for a subscription service that grants me full access to apps and games without any IAPs, advertising, or other annoyances.
Consider waiting on these services before you make that next big smartphone purchase
Were I on the fence about going Android or Apple for my next smartphone, Google's cheaper subscription service could be a pretty compelling argument to hop over to a new Samsung or the upcoming Pixel 4. If you're a big gamer, though, the exclusivity of Apple's Arcade could be similarly enticing.
Can we make up your mind for you? Likely not. I'd definitely make it a point to check on the status of both services before I pick up a new smartphone this fall. And I would even recommend postponing that purchase to see if a competing platform's subscription service offers a killer deal for your favourite apps or the games you're most interested in playing.
The battle for your subscription dollars is just starting up. Unless you're a loyalist to Android or iOS, you should wait until the dust clears a little bit before you pick a side — you might be able to save some serious cash for your apps and games, even with that monthly subscription fee.