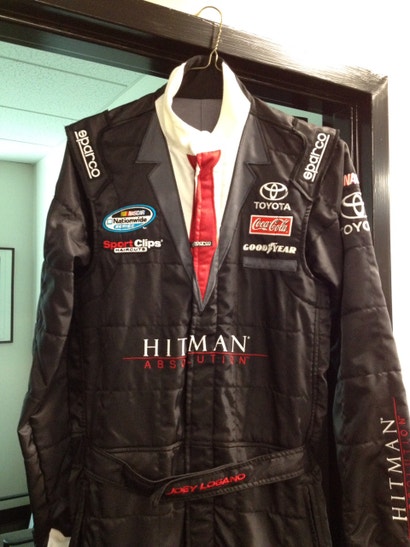 We've featured Joey Logano, the driver who races the No 20 GameStop Toyota in NASCAR's Nationwide Series, several times before. He's had some awesome car wraps before, hoods dedicated to Bioshock 2 or Red Dead Redemption — things that still look a little strange turning left at 190km/h.
Well, when the flag drops at the History 300 in Charlotte in about 30 minutes, Logano's going to outdo all of that. Touting Hitman: Absolution, he'll be wearing a firesuit patterned after 47's costume. You know, the one that is a black suit and red tie. (Click the image above to embiggen.)
It's not a real necktie, but the idea of Logano looking like the world's deadliest limousine driver as he hurtles around the tri-oval is hilariously brilliant to me. I followed up with a Square Enix representative to get more details on Logano's getup.
Me: Please tell me Joey's helmet is just a blank bald head with a barcode on the back. And 47's steely gaze screened over the visor.
Square Enix Rep: Let me check with marketing. (Checks with marketing) Sadly, no. The helmet is not included in this.
Me: Man... OK, well he's got to be wearing badarse black gloves with this thing, at least, right?
Square Enix Rep: No, unfortunately.
Me: CRAP.