Phoenix Wright: Ace Attorney — Dual Destinies is a week away (in Japan). With the return of Phoenix Wright and the first officially numbered game* in six years, the game is looking to be a massive love-fest of everything Ace Attorney.
*Note: The official game title in Japan is Gyakuten Saiban 5 (逆転裁判5).
"It's the first numbered game in the series in six years, so we wanted to meet fan expectations by 'powering up on all levels'." Explains producer Motohide Eshiro in an interview with Weekly Famitsu. "The huge response we received after announcing the title served as a motivation for the entire team." With only a week until fans will be able to get their hands on the full version of the game, Eshiro, along with scenario director Takeshi Yamazaki and art director Takurou Fuse sat down for one final reveal.
In addition to the new emotion-detecting system, the game is taking a look back — bringing back the Perceive ability from Ace Attorney 4 as well as the Psyche Lock from previous games. The emotion-detecting is also looking to be more complex than originally seen in the game's demo. In addition to finding emotional conflicts, it is also utilized to help calm panicked or traumatized witnesses and allowing them to make solid testimony.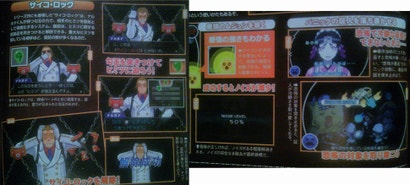 Getting into the head of the defence attorneys, Yamazaki revealed the "Thought Root" (Kangaeroot "カンガエルート") system where players can actually go into the mind of the attorneys to piece together evidence to reach a logical decisive conclusion in a case. As Yamazaki explains, "We wanted players to be able to experience the part in the trial where Phoenix would reach his turn-around moment of inspiration and realise 'so that's what really happened!'"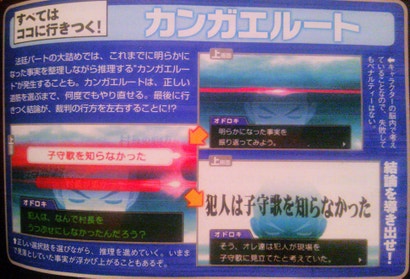 As the latest chapter in the Ace Attorney saga and a celebration of the return of Phoenix Wright to the attorney stand, Dual Destinies is looking to be packed to the brim with content. Starting with first chapter with the bombing of the courthouse, "resurrection" will be one of the major themes of the game. "We made the game with the concept of surpassing people's expectations. We pulled out a lot of the stops and made a lot of tough requests in regards to the design, but the team has shown us something that surpassed even that." Eshiro remarked. "This is a title that I can proudly present."
Awesome. I can't wait to shout my objections — in court, of course.
Phoenix Wright: Ace Attorney – Dual Destinies will be out in Japan on July 25th. The game is scheduled for a rated M Western release later this year.
ファミ通.com [ファミ通.com]