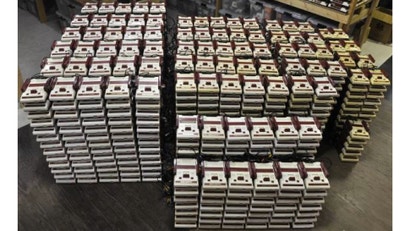 The Famicom is an iconic game console. It established Nintendo as a gaming powerhouse. So! How would you like to own, oh, a thousand Famicoms?
On Yahoo! Auctions Japan, a seller is offering a lot of one thousand Famicoms (above). Just look at that stack. Look at it! Goodness.
The haul contains 480 Famicom consoles in excellent condition, 420 consoles in good condition and 100 consoles that have yellowed in the sun.
The opening bid is nearly $US76,000. That's a lot of money, but this is a lot of Famicoms! There are enough consoles here for you to play a new one everyday for nearly the next three years.
Four days are left in this auction, and currently, there are no bids.
ファミコン1000台 [Yahoo! Auction via 秒間SUNDAY]