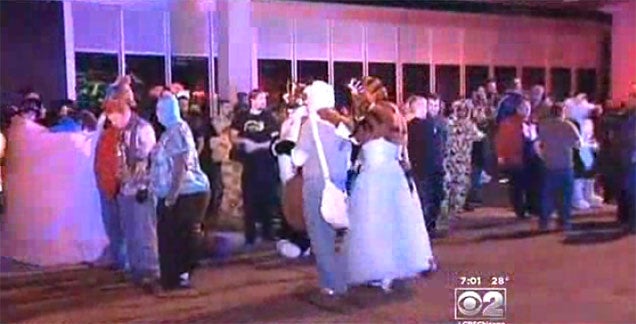 A suspected "intentional" chlorine gas leak at a hotel in Chicago - the venue for Midwest Fufest, a convention for "furries" - has left 19 guests in hospital.
The Chicago Tribune reports that at around 12:40am this morning, emergency services responded to reports of a "noxious odor" at the hotel, which was leaving attendees complaining of "nausea, dizziness and other medical problems".
Because the attack took place in the middle of the night, many attendees were still partying, and were forced to shelter outside still "dressed up as animal characters".
Police currently investigating the incident say that the way in which the powdered chlorine was released "suggests an intentional act".
Below is a statement from the con's organisers:
At around 12:45 AM on Sunday, December 7, the Hyatt Regency O'Hare received a complaint of a chemical odor on the ninth floor. Following a 9-1-1 call, first responders determined that a container with a chlorine-containing chemical was broken there. At 1:10 AM the entire hotel was evacuated, first across Bryn Mawr Ave. in front of the Hyatt as per Rosemont Fire Department's standard procedures, then when it became apparent that the wait would take longer the Stephens Convention Center was opened to provide warmth and shelter to our guests. A full HazMat response was called in at that time.

In the course of investigating the scene, the Rosemont Police Department determined that this was a criminal act and began investigating it as such. This delayed allowing our guests back into the hotel. Midwest FurFest is deeply thankful for the cooperation and patience shown during this time, and please know that everyone was working to get you back into the hotel as quickly as possible. At 4:21 AM the all-clear was given and we worked with the Hyatt staff to return all of our guests to the hotel in the quickest and safest manner possible.

Rosemont Public Safety has reported that nineteen people who complained of nausea and dizziness were transported to local hospitals. Because they were transported after the hotel (including Hyatt staff) was evacuated, we do not have any identification of these individuals. We have been informed by the Hyatt Regency O'Hare that some of those individuals have been released as of this morning.

As we wake up today we want to continue to provide the best possible convention that we can, despite the trying circumstances. The convention will be running on a full normal programming schedule today. We ask you to continue to be patient, and remember that the volunteers who make Midwest FurFest happen intend to give 110% to make sure that the fun, friendship, and good times of Midwest FurFest 2014 overshadow last night's unfortunate incident.

To dispel rumours: Because this was an unforeseen possibly criminal act, Midwest FurFest will not be offering refunds, nor will the Hyatt Regency O'Hare be comping any rooms. Any further questions should be referred to [email protected]
19 hospitalized, thousands evacuated in 'intentional' gas leak at Rosemont hotel [Chicago Tribune]