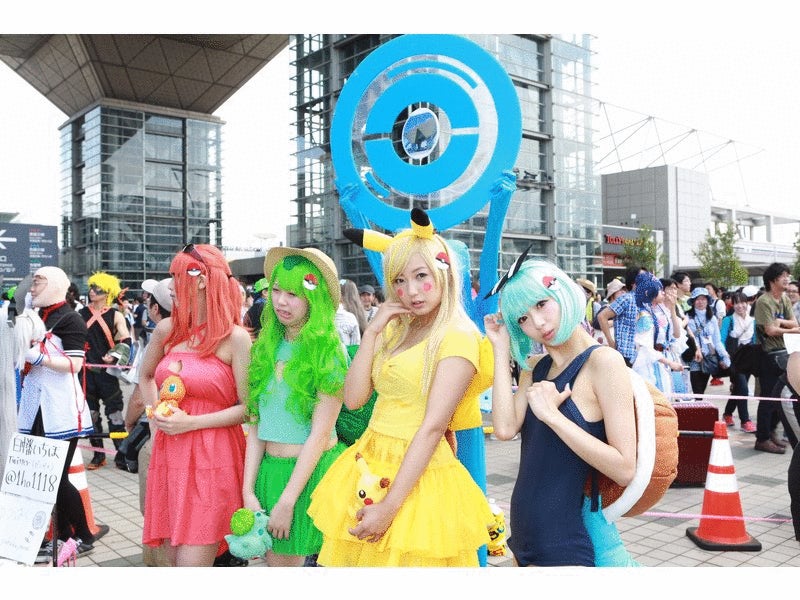 Every August, the twice-yearly Comic Market gets underway in Tokyo. Besides fan-created comics, it draws numerous cosplayers who brave the heat to show off their outfits. [Images: unicorng88 | Ladybeard_Japan | nandakaomo | Souma_N]
Tokyo gets incredibly hot in August, so big respect to the cosplayers in the heavier outfits.
Comic Market cosplay is always a good gauge to see what's popular in Japan. This year, there's more Pokemon cosplay than usual, which makes sense with Pokemon GO out now and Pokemon Sun and Moon right around the corner.
ポケモントレーナーで東お買いものなぅ!#C90コスプレ pic.twitter.com/IQPsXGlHeS

— スモモ*8/13東74ab魔法探偵社 (@smomo69) August 12, 2016
本日集まったニンジャ(とその他)の皆様 #C90 #C90コスプレ #njslyr #ニンジャセッション pic.twitter.com/6hJQ1VhWph

— 長月 蒼真@C90(土)西d-77b雑用 (@Souma_N) August 12, 2016
じわじわくる
塩分#C90#C90コスプレ pic.twitter.com/U8t7muUqdV

— あしほ/C90日ま05b06a (@asiihoumiushi) August 12, 2016
ポケストップさん!#C90 #C90コスプレ pic.twitter.com/BMmKchXogM

— カプリ (@er3FE2zFOeF7NmM) August 12, 2016
ついにこいつもスマホに登場か#C90 #C90コスプレ pic.twitter.com/HHu8Whsxni

— イッキ (@30400_k) August 12, 2016
反射光が凄まじい黄金の騎士。https://t.co/bDxBSUQ6yP#c90 #c90コスプレ pic.twitter.com/m1eKurtQWz

— 1UP情報局 (@1up_news) August 12, 2016
ポケストップ行ったらモンスターボール出てきた。https://t.co/bDxBSUQ6yP#c90 #c90コスプレ pic.twitter.com/2MjmMkPeNA

— 1UP情報局 (@1up_news) August 12, 2016
今日のコスプレすごい楽しかったです‼️ みなさんありがとうございました? すごいカワイイひといっぱい KAWAII overdose✨✨ pic.twitter.com/Jn0CLcfOar

— [email protected]にゅいにゅい (@Ladybeard_Japan) August 12, 2016
話題のポケモンGO!#C90コスプレ pic.twitter.com/kxIIEGNEUP

— ユニコーン@コミケ2日目出撃!夏イベ攻略 (@unicorng88) August 12, 2016
Just do it!と叫ぶハリウッド俳優、シャイア・ラブーフと、そのコスプレ#C90 pic.twitter.com/lbQsKvA8k7

— 鰐軍曹【自宅警備隊@宅外派遣中】 (@WANIGUNNSOU) August 12, 2016
今のところヴォイテクのコスプレが一番笑った pic.twitter.com/MhFLZkw1pr

— ゆるふわ陸士☆埼玉 (@yuruhuwa_rikusi) August 12, 2016
屋外展示場はコスプレエリアとして開放されない可能性があるみたいです!
エントランスプラザに行きます!#C90 #コスプレ #ポケモン pic.twitter.com/K5eu9vPksz

— 白幡いちほ@グループ改名するよ (@1ho1118) August 12, 2016
【コス写】ポケットモンスター
レッド:二羽からす
グリーン:イブ(敬称略) #コスサミ2016 pic.twitter.com/bXGjgte78h

— 藤崎すず(コスサミ1日目カメラでした!) (@suzufujisaki) August 10, 2016
坂本ですが?をされてたクロウさん!!
めっちゃイケメンでカッコ良かった!
3日間きて全部違うコスプレするみたいですよ♪#C90 #コスプレ #C90コスプレ #コミケ#坂本ですが pic.twitter.com/d1SGBeCq9D

— カーネリアン畑 (@hata_carnelian) August 12, 2016
今日からコミケ!!皆楽しんでね!!私、1.2日目はファッキン仕事で不参加!!悲しいから、前回コミケの時に皆でブラックラグーン合わせした画像を上げるよ!!上げちゃうよ!!!!#エアコミケ #C90 #C89 #コスプレ pic.twitter.com/rva6TOdTSW

— まさじ (@manukenosazi) August 11, 2016
【速報コス写真】「バイオハザード」クリス:あふさいどさん【許可済】
#C90 #C90コスプレ pic.twitter.com/FzvusoLJKw

— みどり@c90全日程カメラ (@midori_otk) August 12, 2016
コミケ速報1
ビルドファイターズから
フミナ先輩→バジ夫さん
markⅡ→バルキリーさん
ラルさん→お名前分からずごめんなさい?#C90 #C90コスプレ pic.twitter.com/POJvvEVlRg

— 野良馬(ぼっち)@夏コミ全日 (@norauma194) August 12, 2016
最初はグー #C90コスプレ pic.twitter.com/VurfcRz331

— やく(加古提督) (@mac_bear_) August 12, 2016
コクリコ坂から今夜9時 #C90コスプレ pic.twitter.com/aOFgADRzPm

— 666 (@tomita666) August 12, 2016
醤油...?!#C90 #C90コスプレ pic.twitter.com/FNNUd3pkN1

— あしほ/C90日ま05b06a (@asiihoumiushi) August 12, 2016
なんかいたw東ホール裏に#コミケ90 #C90 #C90コスプレ #コスプレ pic.twitter.com/fUsSmAlpeH

— [email protected]コミケ2日目.東ケ45b (@AliceRyotyan) August 12, 2016
マカロフを捕まえるべく、C90徹夜組虐殺に使用された武器と薄い本を密売する人間を追う中、右腕と言われるカメ子を捕まえて尋問するTF141#C90#C90コスプレ
ローチ:サトル(@satorunn0116 ) pic.twitter.com/W7NDoy3wYY

— ツバメ|2日目東M7aお手伝い (@Swallow__k) August 12, 2016
その頃防災公園では最後の戦いが行われていた pic.twitter.com/jiIiK02dQi

— あんこく (@ankmac) August 12, 2016
捕獲完了 #C90コスプレ pic.twitter.com/p40Qo1QyXo

— ユウイ (@_1uy) August 12, 2016
コミケのコスプレエリアにウルトラマンガイアがいた!
俺の小学生時代のヒーローだから正直興奮した。#コミケ #C90 #C90コスプレ pic.twitter.com/wTF7ncRLoE

— きっしー@ヨハネほのえり推し (@percussiontim) August 12, 2016
昭和ライダー達!クオリティすごい!#C90 #C90コスプレ pic.twitter.com/r2lrsjpxGJ

— カプリ (@er3FE2zFOeF7NmM) August 12, 2016
プーさんのコスプレしてました#C90#C90コスプレ pic.twitter.com/s5QHpVmG1U

— こーすけを撃て (@Fukusk33) August 12, 2016
場所変えて、エントランスの庭園よりの角の方にいます!

こんな感じでまってますー!#コミケ90 pic.twitter.com/Msy6tqKFER

— てらたぬ。 夏コミ1.2&コスホリ12日 (@teratanuki3366) August 12, 2016
コミケ1日目は#ベルセルク !

ガッツ Billy(@Billy_Blue_8 )
キャスカ MIHARU(@miharu_ouka )

お写真撮ってくれた皆さん本当にありがとうございました!#コミケ90 pic.twitter.com/2WDgzboPYa

— MIHARUはポケGO (@miharu_ouka) August 12, 2016
ぽけもんGOw コミケ90コスプレ #c90 #c90コスプレ pic.twitter.com/OjwOdG0GQp

— だい@なんだかおもしろい中の人 (@nandakaomo) August 12, 2016
本日集まったニンジャ(とその他)の皆様 #C90 #C90コスプレ #njslyr #ニンジャセッション pic.twitter.com/6hJQ1VhWph

— 長月 蒼真@C90(土)西d-77b雑用 (@Souma_N) August 12, 2016
強い(確信)#C90 #C90コスプレ pic.twitter.com/aTGO82EdwR

— [email protected]全日参加カメコマン (@kyon128) August 12, 2016