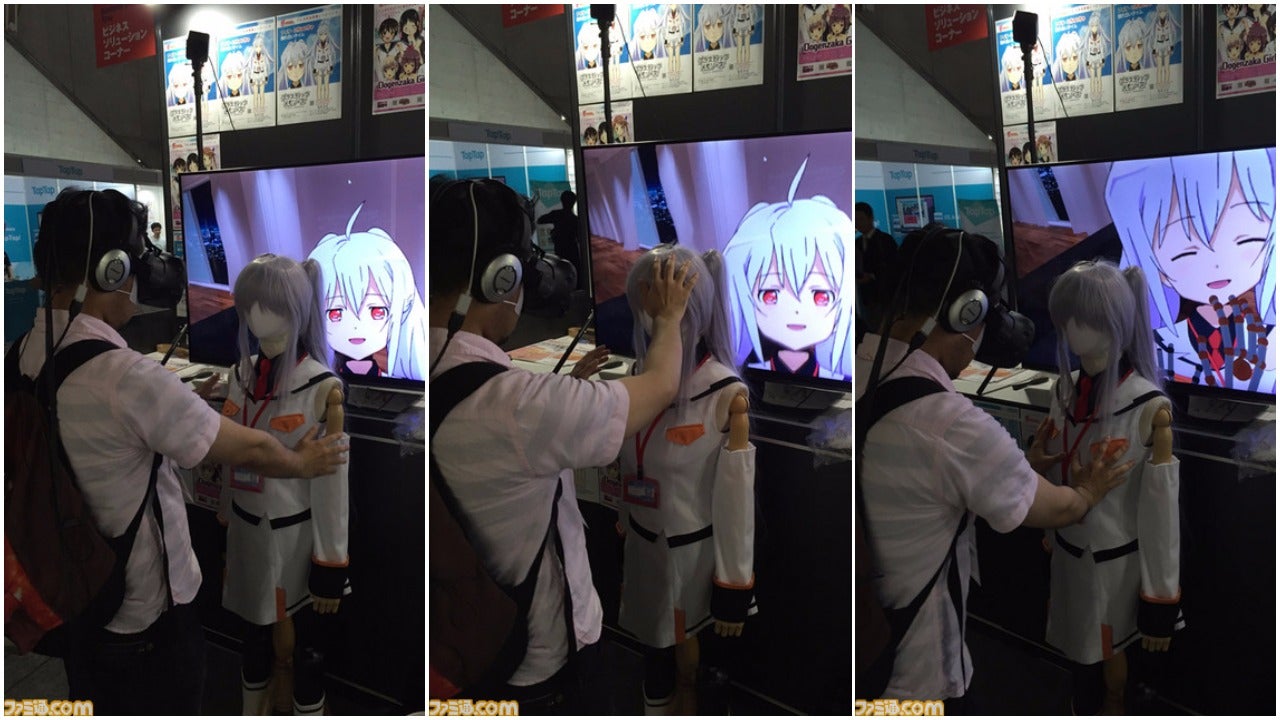 At this year's Tokyo Game Show, there is a VR experience in which players touch a mannequin set-up that uses capacitive sensors. The developers now say after a day on the TGS show floor, those sensors are busted. [Interacting with the VR demo on the Tokyo Game Show floor. Image taken by Famitsu | Mixed by Kotaku]
The first business day of TGS, this was going on:
M2は東京ゲームショウビジネスデイにE-moteを出展し、イラストを2Dのまま立体視を行いVR空間に投影する技術デモを行います。現実世界のマネキンを撫でると、VR上でプラメモのアイラと触れ合える!いよいよ二次元の世界がこっちにきた! pic.twitter.com/Xt0r7psngA

— 有限会社エムツー (@M2_game) September 14, 2016
And in motion:
例のおっぱい触れるやつを体験してきた #TGS2016 pic.twitter.com/BaUpMD9XbM

— みゆっき (@toriimiyukki) September 15, 2016
Yeah. The character is Isla from Plastic Memories, and according to Famitsu, this demo was only slated to be offered during the two business days and not during the public ones.
The point of the demo was for folks to interact with the character in the virtual space, with the mannequin making it possible to touch the character, causing her to react.
But yesterday, the developers announced that they were truly sorry because they discovered the previous night that the contraption was no longer working, and that it wasn't currently possible to use the touch sensors.
大変申し訳ございません、昨夜デバイスの故障が判明し、接触センサが使用できなくなりました。本日はリープモーションによる非接触センサでVRをご体験いただきます。皆様のご来場お待ちしております。 pic.twitter.com/twD4zQKvbo

— M2 E-mote公式 (@M2_Emote_ofc) September 16, 2016