Football fans this weekend are in for a treat as the AFL and NRL Grand Finals are on Saturday and Sunday, respectively. How do you watch it for free if you don't have tickets to see the games live? How can you watch them if you're overseas? How do you make conversation with AFL and NRL fans when you know nothing about the two sports? What snacks should you make while you and your mates watch the games? We've got you covered.
The Basic Information
The 2016 AFL Grand Final will start at 2.30pm (AEST) on Saturday, October 1 at the Melbourne Cricket Ground. The two teams that have made it to the final are the Swans (Sydney, NSW) and the Western Bulldogs (Melbourne).
The main event for the 2016 NRL Grand Final will kick off at 7.15pm (AEDT) on Sunday, October 2 at ANZ Stadium in Sydney. The two teams that are playing are The Storm (Melbourne, VIC) and the Sharks (Cronulla, NSW).
How To Watch The Grand Finals For Free In Australia
AFL
The Grand Final will be broadcasted on free-to-air TV on channel 7. For those who can afford it, you can stream every AFL match on their mobile device by getting the AFL Live Pass for $89.99 per year (excluding data charges). The matches are streamed through the AFL Live Official App (iOS, Android and Windows Phone). Some Telstra customers get a one-year subscription for free so if you haven't redeemed your pass, you can do it here.
If you don't care to pay for the pass, there is a way around it. CrownBet has a promotion where if you sign up for an account on the betting service, you'll get what is essentially a season subscription to the AFL app without paying a cent.
While there are no monetary strings attached — betting or otherwise — you will have to create a CrownBet account, which asks for your email, phone and home address. So if you're not comfortable providing those details, then read no further.
You'll also have to use the CrownBet app to watch the games, but as OzBargain user Catchy notes, you can get it working with Chromecast and there are other methods of streaming from the app if you're willing to tinker.
Please do bear in mind that streaming content on your mobile device consumes data so make sure you do it on a WiFi connection, unless you don't mind paying exorbitant mobile data charges.
NRL
The NRL Grand Final will be broadcasted on free-to-air TV on channel 9. If you have Foxtel, it will also be show on the Fox Sports channel. If you want to stream the game on a mobile device, you can get the NRL Official App (iOS and Android) and subscribe to the NRL Digital Pass for $2.99 per week or $89.99 per year. Some Telstra customers get a one-year subscription for free so if you haven't redeemed your pass, you can do it here.
If you want to stream the NRL Grand Final for free, your best bet is to sign up for the NRL Digital pass which gives you a one-week free trial. Just make sure to cancel the subscription after the game.
If all else fails, you can always pop down to a pub, bar or leagues club to watch the games. You can find out which venues are going to be playing the AFL and the NRL Grand Finals over at Game On. You just need to type in your postcode to find the nearest venue.
How To Watch The Grand Finals When You're Overseas
Overseas AFL and NRL fans are quite limited in their options. The AFL and NRL apps are region locked and won't be accessible for users that are not located in Australia.
Your best bet is to sign up for a virtual private network (VPN) which can hide the location of your computer and mobile devices. That way, you can get the apps, launch your VPN on your mobile device, set your location to Australia and everything should be up and running (although you might experience some lag).
VPNs are not too expensive and usually charge on a monthly basis so you can just cancel the service once you're done with it. We have a few recommendations here.
The AFL is broadcasted across a number of different countries but it might be hard pressed to just pop by your local sports bar and expect them to be showing the game. The AFL does collect information on what establishments are planning to broadcast the Grand Final on an interactive map (here) but bear in mind they may be delayed telecasts.
How To Make Conversation With AFL And NRL Fans When You Have No Idea What's Going On?
You've been roped into a gathering to watch the AFL or NRL Grand Final (or both!). The problem is you're not a fan. In fact, you know nothing about AFL or NRL. Sometimes, you don't have the option to just own about your lack of AFL/NRL knowledge; it might be a networking event and you want to impress your boss.
So how do you avoid awkward conversations about the games when you're at those gatherings? You can bluff through them.
#1 Act casual
Don't try too hard and claim that you're an expert or that you've always been an AFL or NRL fan; hardcore fans will see right through you. Faking your way into that 'I don't follow it, but I like to watch the final because it's such a big event' category is much easier than pretending to be a genius.
#2 At least know the bare minimum and pick a winner
Getting to know the basic information (that we've already gone through) is a start: know when the games start and know which teams are playing.
The one question that's generally hard to avoid is "who are you backing?" For practical purposes, you could pick a name at random, but here are a few suggestions to whittle down your choice:
For both the AFL and the NRL Grand Finals, it's very much a NSW vs VIC scenario: Swans and Sharks are both from Sydney while Western Bulldogs and The Storm are from Melbourne. If you're from either states, the choice is easy.
AFL: This is the first time the Western Bulldogs have played in a Grand Final since 1961, so they're the underdogs here.
NRL: The Sharks are the underdogs here.
#3 Ask questions of others
To avoid the conversation shifting into areas you can't follow, ask questions of other people. That shows your involvement without requiring you to have a high level of knowledge. Some possible starters:
Have you ever been to a grand final yourself?
What would be the worst possible outcome: a draw? A total slaughter of one team by the other? A streaker?
Have you ever noticed that the term "grand final" is generally only used in Australia?
Who's the most annoying commentator?
None of this will get you through half an hour in a bar with a bunch of sports tragics. But it will give you a few passing contributions, and that's hopefully all you need.
Grand Final Snacks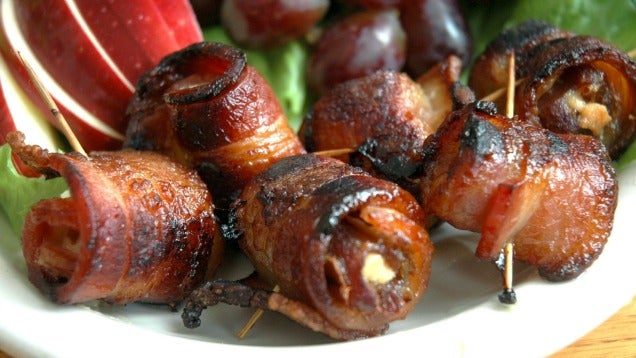 If you're playing host for an AFL and NRL Grand Finals gathering, you'll need to feed your hungry guests. Rather than just ordering pizza, it's easy to whip up a few snacks before the festivities begin.
Lucky for you, we have a super lazy guide to making sport view party food that you should check out if you want to do the bare minimum in cooking.
If you want to try for something a little fancier, you can always make this DIY bread cone recipe which create an edible container for your favourite fillings. An excellent option for game day gatherings and it will impress your guests.
For potato and cheese lovers, here's a recipe to make the best garlic French fries topped with cheese.
---
What are your plans for this Grand Final weekend? Let us know in the comments.