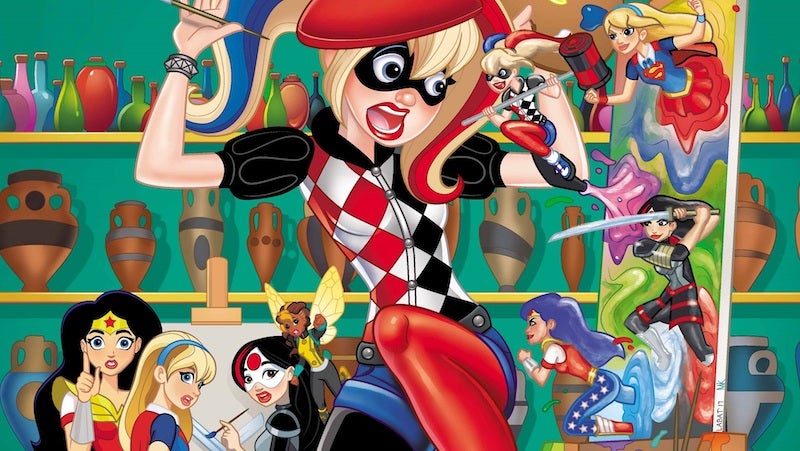 DC Comics
Do you love Harley Quinn? Do you love cartoons about teenagers struggling with their abilities at a high school for gifted youngsters? Do you love My Little Pony: Friendship Is Magic? If so, then today's your lucky day, because a new DC Super Hero Girls series is coming to Cartoon Network.
In 2015, DC, Mattel, and Warner Bros. teamed up to create DC Super Hero Girls, a line of dolls (or action figures, if you prefer) featuring some of DC's iconic female heroes and villains, reimagined as teenagers all attending school together. In addition to the toys themselves, there was also a series of DC Super Hero Girls online shorts that, while delightful, always left you with the feeling that the webseries deserved a shot at becoming a full on show, a la Teen Titans Go!
Next year, a new DC Super Hero Girls series will make its way to Cartoon Network, featuring new character designs and scripts from My Little Pony: Friendship is Magic creator Lauren Faust. The series will be executive produced by Justice League Action's Sam Register.
"The DC Super Hero Girls franchise provides kids with a relatable world filled with aspirational characters, immersive stories, and action-packed missions that inspire viewers to be smart, courageous and empowered to be an everyday Super Hero," Warner Bros. said in a press release today. "[The show will be] centered around the most renowned DC Super Heroes and Super-Villains as they learn to develop and harness their super powers, work as a team and strengthen their friendships, while still getting their homework done on time."