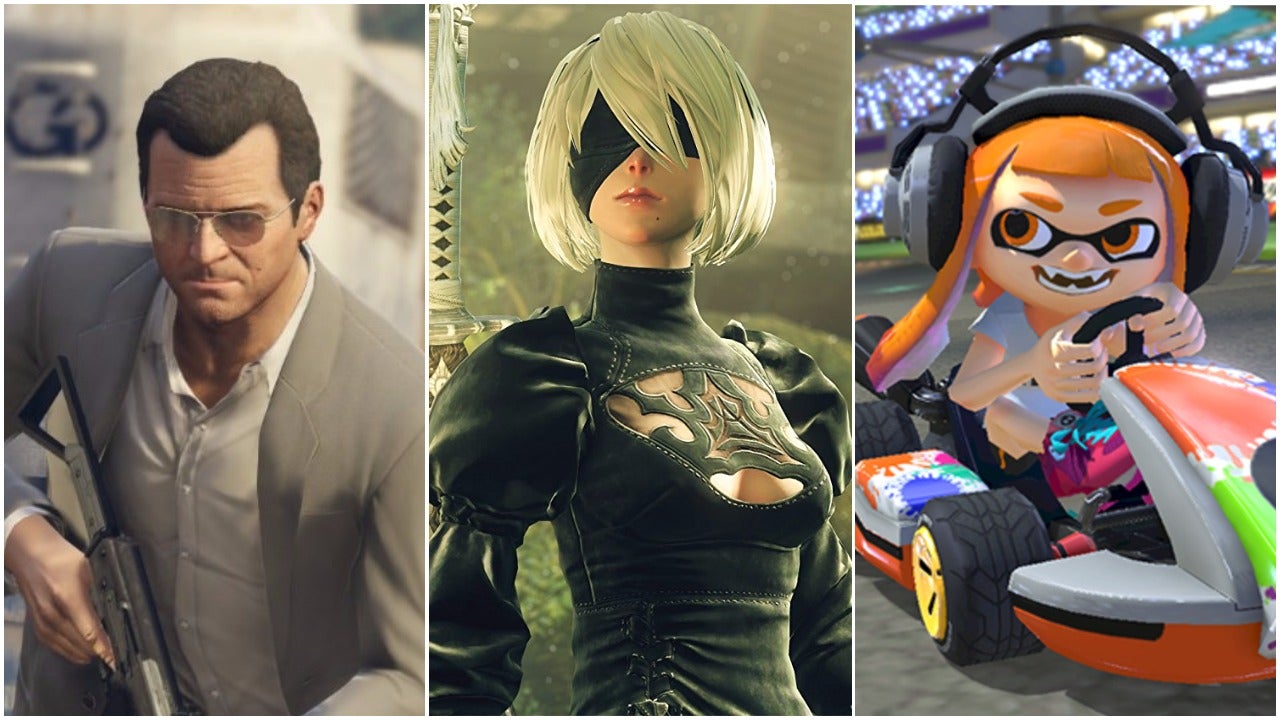 Last week, Mario Kart 8 Deluxe was way out in front in the Japanese sales chart, surprising absolutely no one. Some of the entries, however, might catch you off guard.
[Image: Rockstar | Square Enix | Nintendo]
Via Famitsu, here are the top 30 selling games from April 24 to April 30. 
30. Final Fantasy 15 (PS4): 2220 copies
Total: 975,104 copies
29. Grand Theft Auto 5 (PS4): 2366 copies
Total: 247,919 copies
28. A Clockwork Ley-Line (Vita): 2480 copies
Total: 2480 copies
27. Mario Kart 7 (3DS): 2542 copies
Total: 2,702,671 copies
26. Horizon Zero Dawn (PS4): 2553 copies
Total: 186,925 copies
25. Minna de Wai Wai! Spelunker (Switch): 2562 copies
Total: 8028 copies
24. Super Mario Maker 3DS (3DS): 2590 copies
Total: 1,126,026 copies
23. Pro Evolution Soccer: Konami The Best (PS4): 2597 copies
Total: 9,192 copies
22. Super Bomberman R (Switch): 2847 copies
Total: 80,0471 copies
21. The Legend of Zelda: Breath of the Wild (Wii U): 2949 copies
Total: 100,254 copies
20. Yo-Kai Watch: Sukiyaki (3DS): 2986 copies
Total: 707,148 copies
19. PaRapa The Rapper (PS4): 3144 copies
Total: 9198 copies
18. Fate/hollow staraxia: PlayStation Vita The Best (Vita): 3147 copies
Total: 3147 copies
17. Tsuihou Senkyo (Vita): 3712 copies
Total: 3712 copies
16. Ghost Recon: Wildlands (PS4): 3838 copies
Total: 172,758 copies
15. Pocket Monster Sun and Moon (3DS): 4030 copies
Total: 3,748,283 copies
14. NieR:Automata (PS4): 4654 copies
Total: 279,395 copies
13. Cube Creator DX (3DS): 4697 copies
Total: 4697 copies
12. Hanasaki Work Spring! (Vita): 4730 copies
Total: 4730 copies
11. Dungeon Travellers 2-2 (Vita): 5059 copies
Total: 35,963 copies
10. Mario Sports Superstars (3DS): 5649 copies
Total: 73,169 copies
9. 1-2-Switch (Switch): 6768 copies
Total: 181,641 copies
8. Gun Gun Pixies (Vita): 8794 copies
Total: 8794 copies
7. Dark Souls 3: The Fire Fades Edition (PS4): 10,427 copies
Total: 42,115 copies
6. Pro Yakyuu Famista Climax (3DS): 12,009 copies
Total: 55,581 copies
5. The Legend of Zelda: Breath of the Wild (Switch): 17,085 copies
Total: 393,726 copies
4. Monster Hunter XX (3DS): 24,038 copies
Total: 154,4724 copies
3. Fire Emblem Echoes (3DS): 25,099 copies
Total: 158,509 copies
2. Dragon Ball Heroes Ultimate Mission X (3DS): 92,809 copies
Total: 92,809 copies
1. Mario Kart 8 Deluxe (Switch): 280,229 copies
Total: 280,229 copies