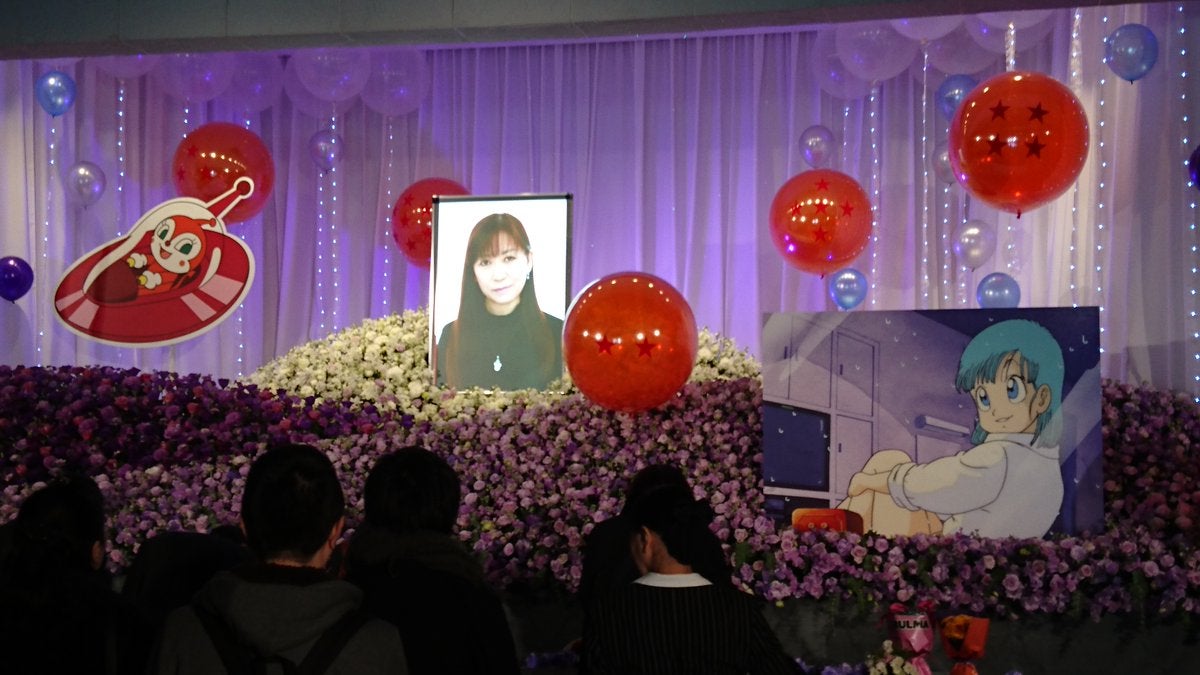 Last spring, Dragon Ball voice actress Hiromi Tsuru suddenly passed away. Recently, a memorial service was held in Tokyo.
[Image: va_ryu_ji]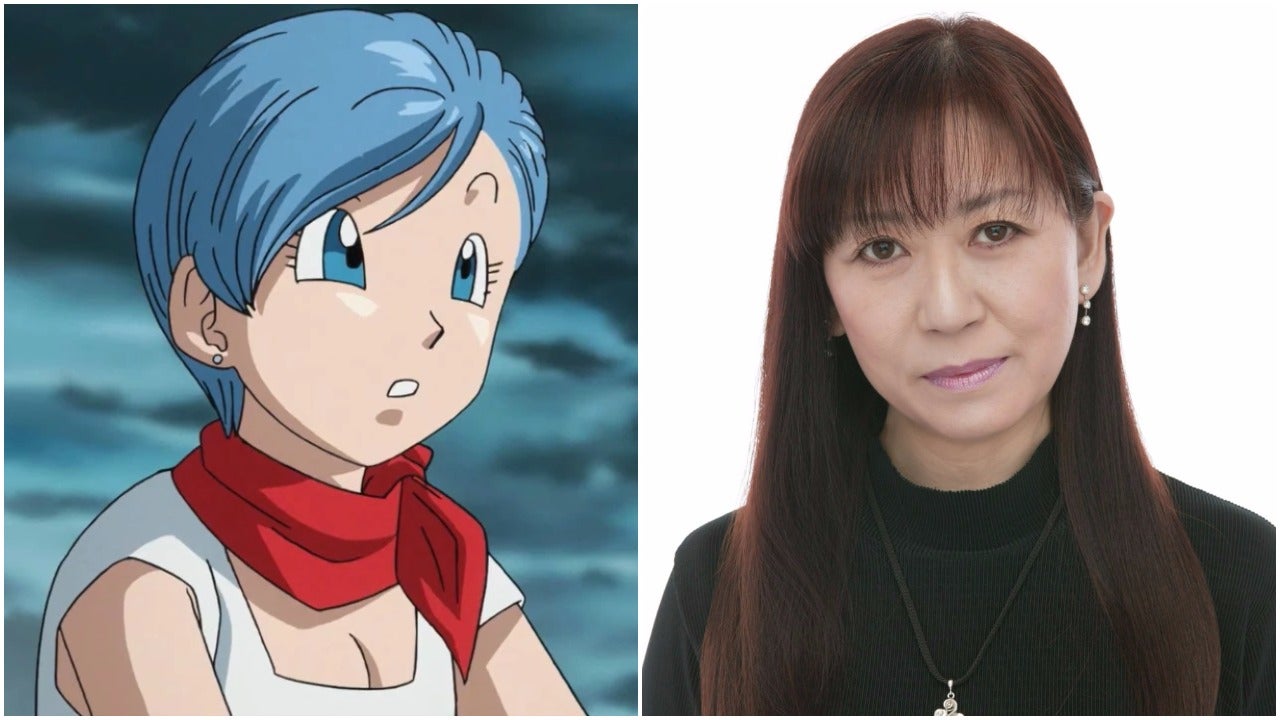 Yesterday evening, Hiromi Tsuru was discovered unconscious in a car on along the Shuto Expressway in Tokyo. The vehicle was stopped, the hazard lights were on, and Tsuru was still wearing her seatbelt.
While the funeral was private, this was an owakare-kai (お別れ会) or "farewell gathering" that was open to the public. It was a way for colleagues and fans to grieve and celebrate her life.
Sports Hochi reports that during the service, Goku's voice actress Masako Nozawa said in a moving speech, "If you gather the seven Dragon Balls, any wish you want will be granted. But this time, they're useless... I'm sorry."
ばいきんまん役・中尾隆聖、涙の「ドキンちゃん、バイバイキ~ン!」声優・鶴ひろみさん送る会  https://t.co/n82Q1yG4iu #芸能ニュース #スポーツ新聞 pic.twitter.com/OXnENhW1Jb

— スポーツ報知 (@SportsHochi) January 13, 2018
The altar in the memorial service was decorated with seven Dragon Balls as well as images of Bulma and Anpanman's Dokin-chan, beloved characters she made famous.
Over four hundred people attended the service to say their final goodbyes and thanks. Below are photos from the owakare-kai:
鶴ひろみさんのお別れ会から離脱 pic.twitter.com/qXHaABdTA4

— いりー (@meuphick) January 13, 2018
鶴ひろみさんの送る会に参加してきました。 1番好きな女性声優さんのご冥福をお祈り致します。 pic.twitter.com/kfc7A2QGKS

— トランキライザー (@tranquilizer27) January 13, 2018
1000RT:【鶴ひろみさんを送る会】野沢雅子が涙の弔辞「私たちを見守って、さようなら…」https://t.co/dht4IQyWu5

「ドラゴンボールが7つ揃ったら、何でも叶うんだよね。今回はダメだった…ごめんね」と涙を流した。 pic.twitter.com/rPju9LK8tL

— ライブドアニュース (@livedoornews) January 13, 2018
鶴ひろみさん、お疲れ様でした。ゆっくりお休みください pic.twitter.com/Xtp4FzNpU9

— Ryu-ji@変態紳士 (@va_ryu_ji) January 13, 2018
「鶴ひろみを送る会」に出席のため青山葬儀所へ。普段なかなかお会い出来ない方とも、たくさんお会い出来た。鶴ちゃんのお引き合わせか。野島昭生さん、古谷徹ちゃんとも。いつでもどこでもSLAPのメンバーと会えるのは嬉しい。鶴ちゃんの遺影に悲しみも新た、やはり、、、ボロ泣きが止まらん。 pic.twitter.com/pKeF0q7gdh

— 古川登志夫(声優) (@TOSHIO_FURUKAWA) January 13, 2018
1000RT:【鶴ひろみさんを送る会】野沢雅子が涙の弔辞「私たちを見守って、さようなら…」https://t.co/dht4IQyWu5

「ドラゴンボールが7つ揃ったら、何でも叶うんだよね。今回はダメだった…ごめんね」と涙を流した。 pic.twitter.com/rPju9LK8tL

— ライブドアニュース (@livedoornews) January 13, 2018
13日、鶴ひろみさんのお別れ会に参列してまいりました。正直、まだ信じられません。沢山の作品でご一緒させていただいたけれど、何より『ガルフォース』の楽しかった思い出が脳裏を駆け巡ります。お別れは言いません。また会いましょうね。 pic.twitter.com/gyudJPA2wZ

— 川村万梨阿☆公式情報 (@odyssey20140618) January 13, 2018
鶴ひろみさんを送る会に参列して来た。祭壇には格好良い鶴さんに似合いそうな紫の花を献花。生前のお人柄が偲ばれる和やかで楽しい会だった。ご冥福を心よりお祈り致します。 pic.twitter.com/T568pfaykW

— 神沢ミホ (@mihojyun346) January 13, 2018
ドキンちゃんやブルマ役で知られる声優・鶴ひろみさんのお別れの会。

献花後の懇親会でふるまわれたのは、アンパンマンやドラゴンボールをイメージした食事でした。

食事に込められた思いを取材しました。

- ウィズニュース https://t.co/HaOHNk5d1g #withnews pic.twitter.com/gybzNEgxF1

— withnews (@withnewsjp) January 14, 2018
鶴ひろみ様を送る会 pic.twitter.com/d3c81prbA5

— Yuhomi (@yuho_gokou_DB) January 13, 2018