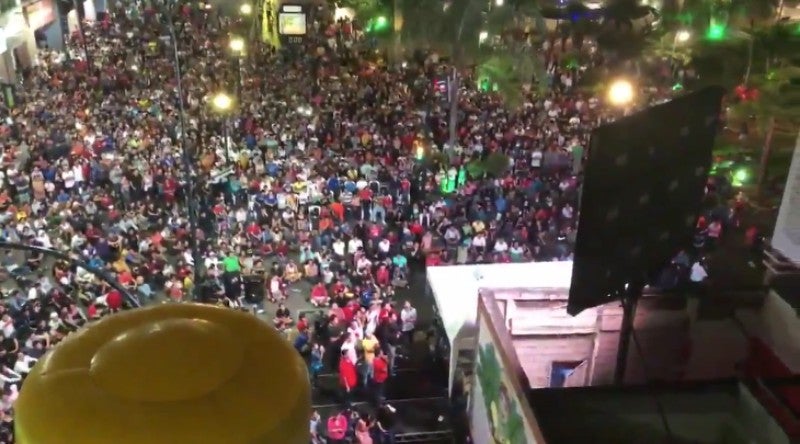 Over the weekend, anime fans in Latin America gathered to watch Dragon Ball Super's 130th episode streamed in stadiums, plazas and parks.
Screenshot: MrOppaiSensei (Twitter)
The Dragon Ball Super TV anime will come to an end for the time being. However, a Dragon Ball Super movie will hit theatres later this year in Japan.
Toei Animation sent out an official statement regarding these stream events, saying that it had not authorised these public watch parties.
PLEASE READ BELOW⬇️⬇️ pic.twitter.com/nmNxSg8ZMK

— Toei Animation (@ToeiAnimation) March 13, 2018
And, it seems, this was also sent.
Embassy of Japan in Mexico sent a note to a Mexican governor regarding the public airing of Dragon Ball Super's last two eps, asking to suspend it if its illegal because of Toei's author rights.

Where were you when Dragon Ball became the subject of a diplomatic note? pic.twitter.com/Gmn6QcYQR4

— Kaleb (@KalebPrime) March 19, 2018
But there were apparently formal negotiations for the Ciudad Juárez screening.
Transmisión de Dragon Ball sigue en pie - El Diario de Juárez https://t.co/5N4jJAGDbF pic.twitter.com/VBKdCNm65X

— Dragon Ball Z News (@DragonBallZNews) March 15, 2018
According to THIS guy (a newscaster), the negotiations between Crunchyroll and Toei to legally have that DBS Event in Mexico. If true, that's good news for Mexico! https://t.co/NtanhHDbh7

— Geekdom101 (@EmperorBigD) March 18, 2018
According to news site El Diario de Juárez, the city's mayor ultimately secured permission to screen the episode. Other local governments also tweeted out photos of the event (here and here).
in mexico a few hours ago thousands of people gathered up to watch the dragon Ball fight lmao pic.twitter.com/VrTvk8ewAr

— Quackity (@QuackityHD) March 18, 2018
A load of fans gathered.
this is not a joke pic.twitter.com/FDxRCbEXF7

— Quackity (@QuackityHD) March 18, 2018
The Ciudad Juárez event apparently attracted 10,000 or more people.
Mas de 10 mil personas se reunieron en la Plaza de la Mexicanidad para ver el episodio 130 de Dragon Ball Super realizado en Ciudad juarez. pic.twitter.com/VbZ0eoWnK7

— Benji (@BenjiPastrana) March 18, 2018
That's over 9000!
Check out more photos of the Ciudad Juárez event as well as ones elsewhere.
Photos #DragonBallSuper Episode 130 public live streams hosted by governments across Latin America:
Santiago, Veracruz, Machala (Ecuador) & San Miguel (El Salvador). More photos from Mexico at City of Juárez, Querétaro, San Luis Potosí... And dozens more, possibly hundreds more pic.twitter.com/gOFUPMLElZ

— ????Oppai Senpai???? (@MrOppaiSenpai) March 18, 2018
Asisten 15 mil fronterizos a ver Dragon Ball Super en la Plaza de la Mexicanidad

- Entre jóvenes y familias completas se dieron cita la tarde de ayer en la Plaza de la Mexicanidad, donde se llevó a cabo la proyección de Dragon Ball Super pic.twitter.com/4LcIF2fkLO

— Ciudad Juárez (@MunicipioJuarez) March 18, 2018
BREAKING NEWS: over 10,000 #DragonBallSuper fans gather in Machala, Ecuador to see #DragonBallSuper130 (episode 130) public live-stream hosted by local government! Im so proud of mi gente across Latin America for showing @ToeiAnimation @FUNimation @Crunchyroll the power of fandom pic.twitter.com/XgtktAVVeG

— ????Oppai Senpai???? (@MrOppaiSenpai) March 18, 2018
Gran ambiente hoy en el Jardín Guerrero para vivir el capítulo 130 de #DragonBallSuper felicito a todos los asistentes por su orden y entusiasmo. pic.twitter.com/vS7tiN7nIN

— Marcos Aguilar Vega (@MarcosAguilar) March 18, 2018
Así se vive la batalla entre Gokú y Jirén en Plaza armas #Cuernavaca #FestivaldelaPrimavera #Morelos #DragonBallSuper pic.twitter.com/Risw3qSyqO

— Gobierno de Morelos (@GobiernoMorelos) March 18, 2018
Siempre sí, #CdMadero proyectó capítulo de Dragon Ball - Milenio https://t.co/h2G9g9bCyg #Tampico #Tamaulipas #DragonBallSuper pic.twitter.com/F1NJgSe823

— Noticias de Tampico (@notitam) March 18, 2018
Después del @JazzFestSV en la plaza Libertad, nos trasladamos a la plaza Salvador del Mundo para disfrutar de la proyección de Dragon Ball Super. ✌???????? pic.twitter.com/RkybWJ39He

— Gob. de San Salvador (@alcaldia_ss) March 18, 2018
Thanks to my friend @MaikyBorrell, now I know that we were actually OVER 10,000 FANS watching #DragonBallSuper in #CiudadJuárez.
OVER TEN THOUSAND!
I couldn't be making this sh*t up even if I wanted to.#Goku #Vegeta #Jiren #DragonBall #Android17 #Frieza
This was so AWESOME!! pic.twitter.com/DEnCerghFO

— SFr|Shingo (@Yabuki_Shingo) March 18, 2018