If you've been calming your farm for some co-op Stardew Valley, relax. Multiplayer is almost here, according to the developer.
Eric Barone, Stardew Valley's creator, announced on Twitter early this morning that "good progress" was being made on the multiplayer mode. Barring disaster and other unforeseen problems, Barone remarked that people should be able to jointly run blueberry wine rackets in about a month:
Update on Stardew Valley multiplayer: still making good progress on fixing bugs, if all goes well it should be ready in about a month

— ConcernedApe (@ConcernedApe) April 10, 2018
The multiplayer mode will be a free update for all users, although it will be rolled out to the PC first, then Switch, followed by the PS4 and Xbox.
On the plus side, the new update will also let you marry your in-game partner instead of an NPC:
You can marry other players, and there are no restrictions, just like marrying the NPC's

— ConcernedApe (@ConcernedApe) March 14, 2018
Horses will also have hats, including sombreros, which I'm actually rather into.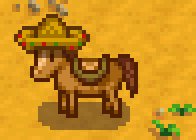 Update: Confirmed that the Switch Stardew Valley port will get the multiplayer update second, before the major consoles.