It took me a long time to come around to UFC welterweight champion Tyron Woodley. And by that, I mean I was resolutely Not A Fan until about, uh, three weeks ago.
Like many UFC fans, I've always found Woodley—who defended his belt over the weekend by clobbering English up-and-comer Darren Till and then pretzeling him on the ground until he feebly patted Woodley's arse in submission—frustrating as hell. In the cage, he's a muscle-bound ball of potential energy primed to explode at any second, but he often keeps that energy level just above "literally taking a nap" for whole fights.
Outside the cage, he's a deceptively charismatic personality who has his own podcast, a TMZ YouTube show, and sometimes does analyst duty on UFC television programming. However, he's spent a disproportionate amount of airtime over the years demanding un-earned super fights against benched big leaguers like George St-Pierre and Nick Diaz.
It doesn't help that he first tried to make those stars align right after winning the welterweight belt in 2016, before he'd ever defended it against more deserving challengers. It wasn't a great look.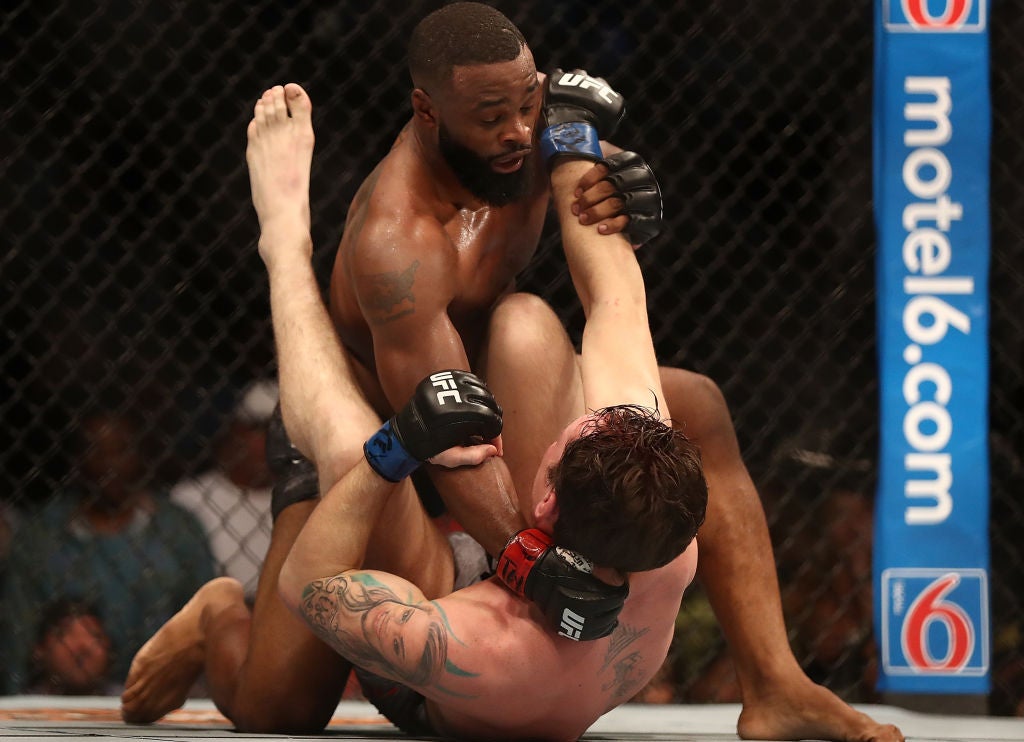 Photo: Ronald Martinez/Getty
More recently, he's taken to banging his drum about how he's still not getting the respect he deserves from the UFC after multiple consecutive title defences, while not wholly omitting but rather massaging the fact two of those defences easily rank among the most snooze-worthy five-rounders in the history of the welterweight division, or pretty much any division.
See, Woodley doesn't beat the stuffing out of his foes so much as he shoves the stuffing so far down their throats that it becomes inert, neutralized. He is, without a doubt, an extremely intelligent fighter, but against both crafty karateka Stephen "Wonderboy" Thompson and irrepressible human backpack Demian Maia, that manifested as a series of staring contests in which neither fighter mounted much in the way of offence for fear of getting slept by their opponent's best weapon.
Don't get me wrong: it takes two to tango, and I can definitely blame Woodley's opponents for this trend as well, but only to an extent.
They were, after all, right to be wary of Woodley's multifaceted tool set. He has monstrous power in his hands, blistering speed, and an oppressive wrestling game to back it all up. But these days, he's a counter fighter to the core, so he rarely takes it to opponents he's shut down.
Instead, he does the bare minimum necessary to win, and then he takes his belt and goes home.
That's Woodley in a nutshell: prodigious skills inside the cage and out, buried under an avalanche of asterisks. It is MADDENING. Against Till this weekend, he finally reminded everybody what he's capable of, coming out aggressive (by his standards) and finishing Till with ferocious strikes and a choke so mighty that you could see it wring the fluids out of Till's crumpled body.
Finally, it's easy to be high on Woodley again. MMA is among the most "what have you done for me lately" sports in existence, and Woodley just replaced an asterisk or two with exclamation points.
In the lead up to the fight, I realised that the qualities that make Woodley so frustrating also make him what I—somebody who, like many, has grown increasingly tired of the UFC as a product and a company—want out of a champion.
These days, the UFC exerts tremendous pressure on its highest-profile athletes to fit a certain mould. If they don't fight when it wants, who it wants, and how it wants, it's liable to strip them of their hard-earned championship belts (that it may or may not have pulled out of thin air for the purpose of making a fight seem more important than it actually is) or badmouth the shit out of them to the press and public.
And unless a fighter fits the mould of a Conor McGregor-esque firebrand, or a genetically impossible heavyweight from the most muscular beef mountains of Robert Liefeld's imagination, it's loath to put in the long-term promotional effort necessary to cultivate new stars.
Woodley, for all his all-time snoozers in the cage, has been unafraid to call attention to this. And he has been, to an extent, justified in doing so. In recent times, the UFC's adopted a glaringly obvious trend of lavishing promotion on fighters it wants to be champs, not the ones who actually, you know, are.
It happened earlier this year at heavyweight with Francis Ngannou, who went on to get obliterated by then-champ Stipe Miocic, and then repeatedly badmouthed by UFC president Dana White.
And it happened more recently at bantamweight with Cody Garbrandt, who lost his totally undeserved rematch with champ TJ Dillashaw in an even more lopsided fashion than in their first fight.
Woodley's been given similar treatment in his past few fights. He most famously called it out early last year after his first fight against Stephen "Wonderboy" Thompson—before he'd even put on either of his most spectacularly boring fights.
"Going into [the last] fight, I feel like Wonderboy was promoted as the champion," Woodley said during an appearance on SportsCenter. "Don't have him walk out with the American flag, like I'm from a different country. Don't have him paraded around. Don't have everything revolve around him."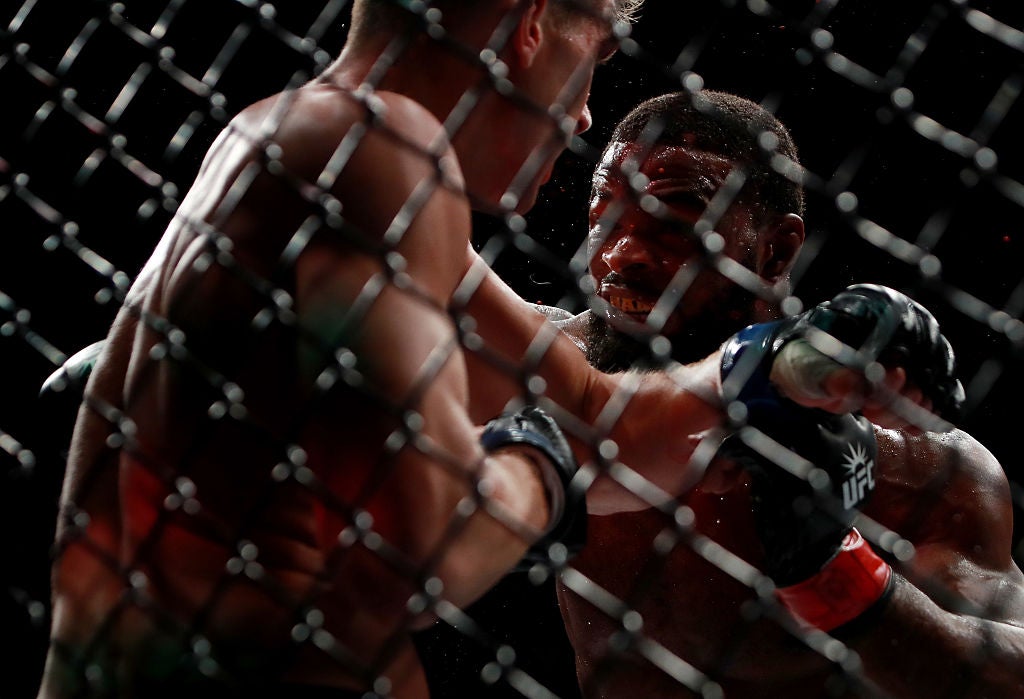 Photo: Michael Reaves/Getty
At the time, Woodley caught a lot of heat for chalking it up partially to race. He's a black man from Ferguson, Missouri, and this was far from the first time he'd frankly discussed his experiences with racism.
He thought it impacted fans' perception of him and, during the SportsCenter segment, said as much.
"Let's put the cards on the table," he said. "Real is real. If I was a different complexion, I think people and fans would treat me a different way." He pointed to other black champions who'd similarly been chewed up and spat out by the UFC's marketing machine Then-flyweight champ Demetrious "Mighty Mouse" Johnson, despite being one of the most dominant champs the UFC's ever seen, had notoriously never gotten much of a push. Disgraced ex-light heavyweight champ Jon Jones, who Woodley acknowledged is "his own worst enemy" in the wake of multiple drug and legal controversies, is still someone the UFC "can't wait to throw… under the bus."
More recently, UFC president Dana White has taken aim at Woodley on multiple occasions, describing him as a "drama queen" and bashing his fight against Demian Maia repeatedly and at length.
Ahead of last weekend's fight, White sounded resigned. "Tyron Woodley is good-looking, has the perfect physique, he's got the record, and he's got knockout power in both hands," White said in response to a pre-fight question about why Woodley isn't a star.
"But every time Tyron Woodley opens his mouth, he shoots himself in the foot. He's a very unlikable guy to fight fans." White neglected to mention, of course, that the UFC spent this pre-fight build up, too, pushing Woodley's challenger Till like he was the second coming with a series of promos about how it was his "destiny" to be the greatest fighter of all time, and Woodley was basically a stepping stone.
It's true: Woodley does not always say what fans or UFC brass want to hear, but at least he says it. Agree with Woodley or not, the guy speaks his mind in an era where UFC fighters are pressured to conform and pray that daddy Dana deigns to shine a spotlight on them for a few precious seconds.
Fans also like to call Woodley out for whining about his opponents and a lack of so-called "super fights," but he's still, at the end of the day, beaten everybody the UFC's put in front of him using an unquestionably effective style that pretty much nobody else can pull off.
And he's fought a murderer's row of guys who are best known for making their opponents look like dog shit: Thompson, Maia, and now Till. Oh, and don't forget that time he won the belt by splattering legendarily durable brawler Robbie Lawler against the cage in less time than it takes most people to compose their first tweet of the morning.
Perhaps, though, that's part of the problem: Woodley keeps defying expectations when the UFC and fans don't want him to. When Woodley first won the belt, Lawler was a fan favourite, a bloody warmaster who improbably snatched the welterweight belt as part of a late-career resurgence.
Lawler had a reputation for being willing to fight anybody, anywhere, and making an edge-of-your-seat thriller out of it. Ahead of that fight, Woodley—in defiance of the UFC's wishes—refused to fight anybody anywhere and sat on the sidelines for more than a year to wait for a title shot he felt he'd earned, despite having recorded a loss just three fights prior.
Diehard UFC fans hated it, even though Woodley just saw an opportunity and decided to take it.
Then he came out and made everybody's favourite barbarian badass Lawler look like an amateur. Now he's managed a similar feat against a magnetic personality in Till, a guy who the UFC all but anointed as its Next Big Thing. The merry-go-round spins on.
Woodley is, in so many ways, stubborn to a fault, but to remain authentic in a UFC that wants pre-packaged, easily sold products—chiselled Ken doll robots who toe the company line and say "sir" all the time like comically muscular children—you kinda have to be.
That goes double for getting the kind of money and respect you deserve from a UFC that frequently badmouths fighters (who are, as ever, only contractors despite fulfilling full-time workloads), fabricates belts instead of propping up the fighters who hold them, and quashes organising efforts by abruptly firing people.
To the modern UFC, fighters are disposable, which makes it increasingly difficult to get behind the company or what it's selling. It might be frustrating to watch sometimes, but Woodley's calling his shots and getting what he can from a company that's known for going on the offensive against its own breadwinners.
He's putting his back against the cage and waiting to charge like a bull when his opponents make mistakes, knowing that when they slip up, he'll be ready. That's bold. In the cage and out of it, Woodley refuses to be pushed aside.