Japan has brought the world some truly delicious treats, but one of the best of all has to be meron pan (melon bread). We know it tastes good, but how was it invented? And why is it called that?
Typically, melon bread is fluffy bread with a sugar-covered cookie-type top crust. The exact origins of melon pan are unclear, and the meaning of its name isn't certain, either.
One story says that melon pan was first invented in 1910 after Japanese businessman Okura Kihachiro brought an Armenian baker named Sagoyan to Japan, where he apparently made the bread, originally basing it on a French galette. Sagoyan had previously worked for the Romanovs and at the Imperial Hotel in Manchuria. This origin tale is not confirmed, however.
Melon pan certainly has its roots in what's called kashi pan in Japanese, meaning "sweets bread." As Nipponia points out, kashi pan really started in 1874 when a Tokyo baker named Kimura Yasube came up with anpan, a bread stuffed with sweet adzuki bean paste (an).
By 1900, Yasube's bakery was making jamu pan or "jam bread." Four years later, kurimu pan (bread stuffed with custard cream) was developed at another Tokyo bakery. Japan's kashi pan revolution was in full effect, and the birth of melon pan eventually followed suit.
神戸のメロンパンはコレでアレはサンライズ#旅する北神弓子 pic.twitter.com/o5YHL2w8HU

— 県北 (@kenpokuf) January 2, 2018
Melon pan can come in different shapes. In Hiroshima and Kobe, there is melon pan that looks like a rugby ball"or what's known as an oriental melon (or Korean melon).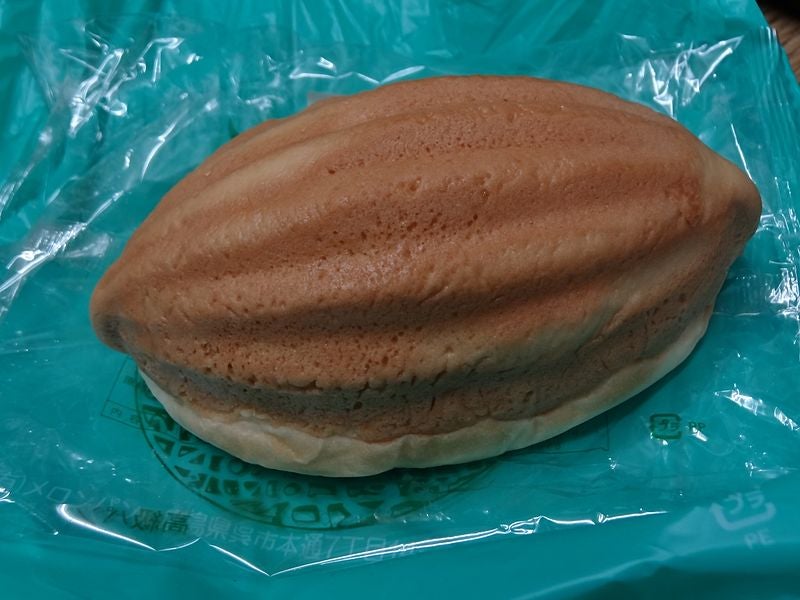 Creative Commons CC BY-SA 3.0″ loading="lazy" > Photo: Sanjo,
Creative Commons CC BY-SA 3.0
For some people in Japan, this is what proper melon pan looks like. (More on that later.)
But first, where did the name "melon pan" come from? The most common explanation is that the bread's shape and the grooved crust looks like a musk melon's skin, hence melon pan. The bread typically does not taste like melon, but rather sweet cookies and buttery bread. However, there are melon-flavoured versions.
→京都の「メロンパン」はラグビーボール型の形状で中にメロン味のクリームが入っている。一個260円。隣にはちゃんと「サンライズ」も売っている。よくこのサンライズとメロンパンは混同されるが、写真の商品が京都流儀。それぞれ2個ずつ買った。 pic.twitter.com/UkmWrarvAr

— エンドス (@los_endos_) March 8, 2015
However, as website Moonmuffin points out, kashi pan is typically named after what's inside of it. So, anpan is called that because it's filled with an (sweet adzuki bean paste) and kurimu pan is filled with kurimu (cream). But melon pan is not filled with melon!
メロンパンのメロンパンとメロンパンのサンライズ
何を言ってるか解らないかも知れないが、本当の事なんだ#メロンパン pic.twitter.com/u1jKq5e78W

— なめこ (@nameko2801) February 27, 2018
In fact, in Kobe and Hiroshima, there is melon pan that is filled with shiro an (sweet white bean paste). There is another theory that melon pan is actually named after meringue and the Japanese for meringue (メレンゲ or merenge) became "meron" or "melon."
The most plausible theory could be that melon bread was created to look like musk melons, which became luxury fruits in the first part of the 20th century in Japan. By making bread that looked like these expensive fruits, bakers could make bread with a ritzy image as a sales tactic.
But in some parts of Western Japan, the round bread everyone knows as melon pan isn't even called that. Instead, it's known as sanraizu (サンライズ) or "sunrise." Apparently, the reason is that during the 1930s, a Kobe bakery made a round bread with a cookie top designed look like the rising sun. In Kobe and Hiroshima, sunrise bread is still sold, but even though the name isn't the same, make no mistake, it's melon pan. In neighbouring Osaka, however, it is known as "melon pan."
#板宿 ミツヤさんの「サンライス」(サンライズ)と「メロンパン」。
「正しい神戸人」には当たり前ですが、初心者用に、タイトル付き写真(笑)
と、わりあいデカい、ミニサンド。
地図https://t.co/2vfm3W8bOu pic.twitter.com/SE0WylYKZd

— 板宿本通商店街-オフィシャル (@ItayadoMM) November 4, 2017
This Kobe bakery sells the round melon pan as "sunrise" and the rugby ball looking one as "melon pan."
#もう付き合っちゃえよーという二人

メロンパンとサンライズ pic.twitter.com/QgIhDGaERg

— いまいち萌えない娘 9周年 (@kobeimamoe) January 12, 2016
They sure look different.
広島ではメロンパンのことをサンライズと言うのが普通かと思っていましたが、メロンパンとして売っているものも多かったです。サンライズ調べてみたら発祥は神戸で、本来サンライズだったものが間違ってメロンパンとして伝わったそうです。 pic.twitter.com/qKabEQ6T5N

— メンチ先輩 (@okochamalunch) January 7, 2014
And in Hiroshima.
一昨日買ったパン。メロンクリーム入りのサンライズ。(メロンパンと言わないところがどうもw) pic.twitter.com/Zef9cULwZ1

— Lupin 3rd (@lupin_03rd) May 13, 2018
Here is a "Sunrise Melon Pan" with Hokkaido melon cream, covering both bases for less confusion!
Even 7-Elevens in Kobe call it "sunrise."
神戸行った時メロンパンがサンライズって言う名前で売られてたんだけど何これ pic.twitter.com/Q3wDFEikKY

— レンコン (@rencon_rensuke) October 21, 2015
I call it "delicious."
This article was originally published on March 22, 2018.