Pokémon Scarlet and Violet's Teal Mask DLC may not fix all the performance issues the games have had since they launched in November 2022, but there is one thing it dramatically overhauls: the game's godawful photo mode.
When Scarlet and Violet launched, it let you take photos and selfies with your Pokémon friends and other players if you were grouped up in its (surprisingly great) co-op mode. But trying to take sick pics with your pocket monsters was insufferably bad because your favorite critter would constantly run around, never pose in the right way at the right time, and were generally about as cooperative as a fussy kid who wanted to be anywhere else. In The Teal Mask, you now get more direct control over what your Pokémon do while you're trying to set up a perfect shot, and friends, I'm about to put on a photoshoot.
Pokémon Scarlet and Violet's Teal Mask DLC fixes photo mode
As the series tends to do, Scarlet and Violet's DLC makes posing your Pokémon diegetic, rather than just flipping a switch to make them do something, Pokemon often makes quality-of-life changes an in-universe change, like giving you Running Shoes so your character can sprint in Ruby and Sapphire, or the very controversial Hi-Tech Earbuds in Sword and Shield unlocking proper audio settings. For the photo mode changes, the tweak is that you now play a little jingle when you take out your camera, and depending on which you play, your Pokémon will react one way or another. This includes an energetic battle theme that harkens back to the original Red and Blue, which makes your Pokémon do their battle animations, or you can play a lullaby and snap pictures of them being sleepy little guys.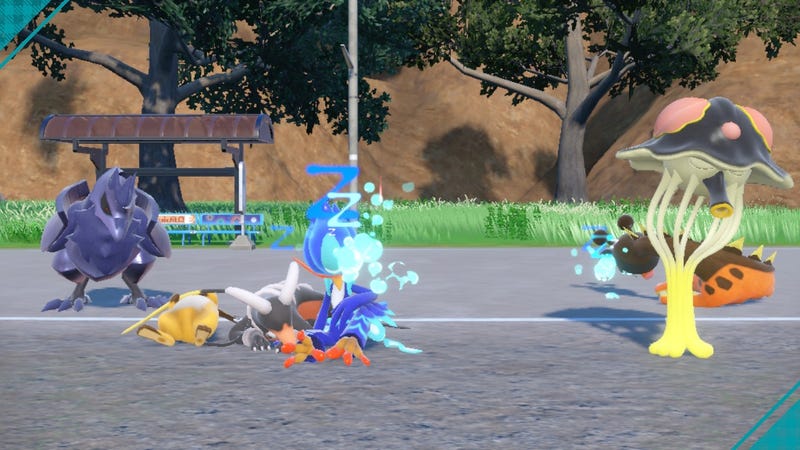 While it still takes some effort to wrangle all of your team together for a group shot, it is at least easier than it was at launch to bring your whole team out for a picnic and get them to all look at the camera and make similar poses. Before The Teal Mask, getting good shots of your Pokémon was all about gaming a broken system and timing your screenshot just right. The DLC also streamlines this process by circumventing the typical "hide UI and press the screenshot button" that plagues other photo modes by automatically capturing a clean image with a simple press of the A button while you've got the camera out.
To add to this, you also get the Roto-Stick, a selfie stick that allows for wider angles to take a better group shot, and lets you pose your trainer in different spots within the frame, so all your selfies don't look exactly the same (like the dating app profile of a straight man in his thirties). All of these small tweaks make Scarlet and Violet's photo mode feel more well-rounded and versatile.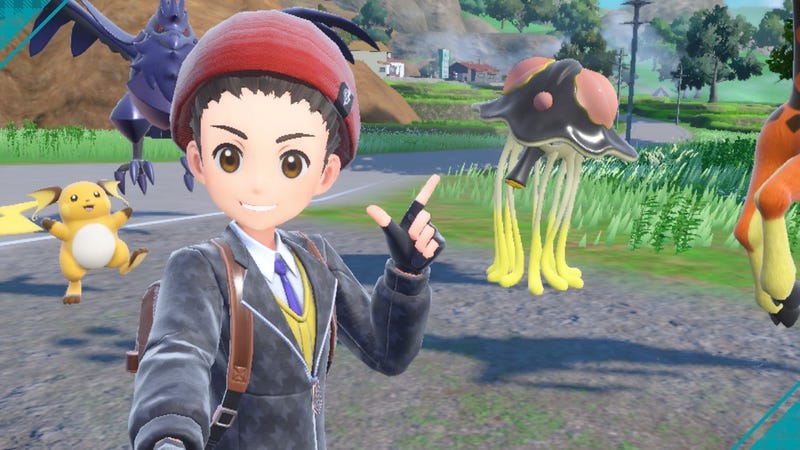 Ultimately, I would prefer if there was a way we could directly pose each and every Pokémon like most photo modes, but at the very least Scarlet and Violet's new photo mode feels usable. Perhaps it's a very true-to-life mechanic because getting your pet to pose for a photo is a constant struggle, but if you manage to catch them at just the right moment, you get the perfect Instagram-worthy pic of your sweet baby to show to the world.Now it feels like I might actually get some worthwhile shots of my Raichu and all his friends. Hopefully it doesn't distract me too much from actually finishing the story, but given how much time I've spent in a non-stop photoshoot already just in the first hour, the odds are stacked against me.