Baldur's Gate 3 already has one special edition, in the form of its Collector's Edition. We even unboxed it here at Kotaku, and it's got a lot of cool knickknacks that pay tribute to its tabletop roots. Of course that was expensive, solely for PC and PlayStation 5 players, and didn't include a physical copy of the game itself. But Baldur's Gate 3 is coming to Xbox next month, so Larian Studios is taking the opportunity to release a new, Deluxe Edition for all three platforms. And given what comes in the box, I think it's pretty darn affordable.
The studio announced the Deluxe Edition, which includes physical game media on PC, PlayStation 5, or Xbox Series X/S. Oddly enough, because video game boxes are magic beyond our feeble comprehension, each version contains a different number of discs. Xbox Series X/S includes three, PlayStation 5 has two, and if you have a disc drive on your PC in 2023, that version only has one. Unlike the console versions, the PC edition doesn't require the disc to play, and comes with a digital key. The DVD is just there to give you a custom installer.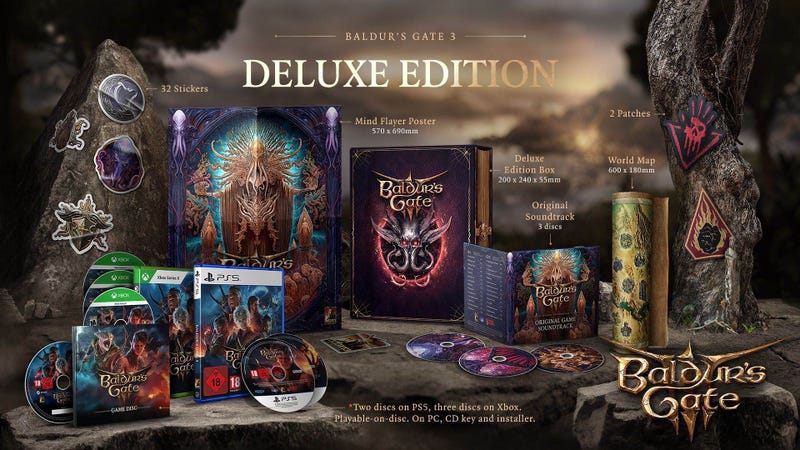 Beyond the game itself, the Deluxe Edition includes 32 stickers, two patches, a world map, a gorgeous poster of a mind flayer, and a three-disc soundtrack, all in a box made to look like a book. The wild part is all of this comes in a $US79.99 package, which is only $US10 more than the base game.
Editor's note: As pointed out by Kotaku Australia reader OzMomotaro in the comments below, this will come to around $AU175, including shipping to Aus. Cheers, Momo. — David.
So if you want something to display on your shelf and a disc to put in your console, this is a pretty great way to buy one of 2023's best games. Unfortunately, it won't arrive until Q1 2024, so if you want some instant gratification you're maybe better off just buying the game on PlayStation Store or Steam, or waiting until the Xbox version launches in December. Larian has confirmed it will announce the release date of the Xbox Series X/S version at The Game Awards on December 7.
Baldur's Gate 3 has become quite the cultural phenomenon since it launched in August, and with the Xbox version imminent, it's about to ride another wave of people playing it for the first time. Larian has been updating the game frequently, with some patches fixing and tweaking over a thousand different variables. Some changes have addressed game-breaking issues, others simply shaved a cat after the community got upset when Larian gave it hair. You know, very normal stuff.
For more on Baldur's Gate 3, check out our interview with the team at Larian about its approach to directing sex scenes.