You can't have a trailer for a high profile game on YouTube without having the comments sometimes becoming strange, weird, and downright trollish. Grand Theft Auto is no exception, as shown by this funny dramatic reading of YouTube comments done by Shesellssheshells.
---
You can now get a closer look at the protagonists of GTA V. A really close look. Or, you could decorate your desktop with them. Rockstar has released wallpapers starring Michael, Franklin, and Trevor, which feature the artwork first revealed alongside the three characters' trailers. Take a gander at them below.
---
Several days ago, a woman named Lucia e-mailed me to tell me the positive impact Grand Theft Auto IV had on her life. The game helped make her "a strong, independent black woman," she told me. Hers was not the kind of e-mail you get every day, certainly not about a game like Rockstar Games' Grand Theft Auto.
---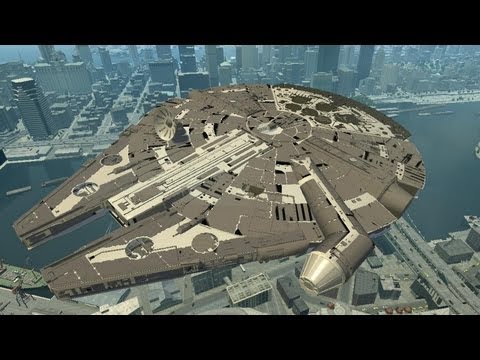 An enterprising Grand Theft Auto IV modder just added the Millennium Falcon to the — wait … wait … Oh, my! What have you done? Oh my! It's BACKWARDS! You flea-bitten furball! Only an overgrown mop-head like you …
---
---
Rockstar is making another pretty game, judging from the trio of character trailers released on Wednesday, and why is the internet here if not to destroy pretty things? Youtube user NDstudio69 shows us what Grand Theft Auto V's "Michael" trailer would look like in 2004′s San Andreas.
---
---
---