The members the GTA Online clan "The Ageing Infidels" have a weird but awesome hobby in-game: remaking the opening scenes of old TV-shows where cars played an important role. So here's their GTA V version of The Dukes of Hazzard.
---
Briefly: "We are also incredibly excited to be bringing GTAV to the PC, but the game requires a little more development time in order to ensure that it is as amazing and polished as possible." Rockstar Games on why the PC version of Grand Theft Auto V isn't arriving until January 27.
---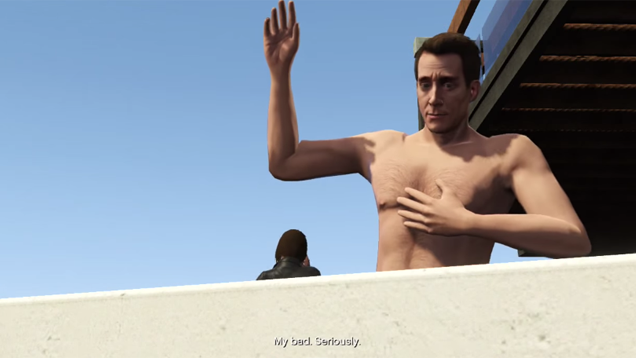 ---
Didn't Grand Theft Auto V already look pretty good on Xbox 360 and PS3? Yes. But it appears to look better — as it should — in the latest trailer for the November-dated PlayStation 4 and Xbox One release. Our own Gergo Vas made some GIFs to compare.
---
YouTuber Mario4LYF3 seems to have a different kind of gravity in GTA V to the rest of us as they put their jet through some incredible moves in this video.
---
Yeah, video game characters are great when they're hopping, bopping, and shooting everything in sight, but the best reveal themselves when they're standing still. No, not like that, you pervert and also me after I wrote that sentence. Idle animations. I'm talking about idle animations.
---
Late last week word began to circulate that the PC version of Grand Theft Auto V was in big trouble because "Rockstar never wanted to release a PC version." This led irate fans to, among other things, hack a marketing firm's website. Rockstar, however, says our precious PC version is safe and sound.
---