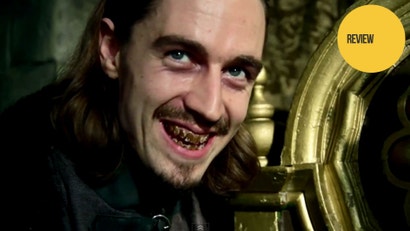 I was playing as the King of England. I ruled for over 30 years, sometimes a tyrant, other times a hero. When I died, I could keep playing, because I was now controlling his son. Who, it turns out, not only had a lisp, but was gay, whose arranged wife hated him and wanted him dead, whose brothers instantly declared war and whose holdings were soon being picked over by Frenchmen.
That would be fairly entertaining if it was a scripted occurrence. Or the result of dramatic writing. What makes Crusader Kings II so amazing is that it's not.
For years now, Paradox has been toiling away on its grand strategy games, releasing a number of series that, while differing slightly in focus and in historical setting, are all generally about the same thing: taking total control of a people or nation. From continental invasions to building a market in some backwood village, you control everything that goes on in your lands.
Crusader Kings II is no different in this regard. Anyone who's played a Paradox game of this ilk before will be right at home with things like its interface, battles and movement. What may not be familiar is the way the game has you managing not just places, but people as well.
WHAT I LIKED
Getting There. There's never been any question there are some incredibly detailed and flexible mechanics running Paradox's grand strategy games. The problem has always been in the terrible way those mechanics are presented to the player. While CKII is still far from perfect in this regard, most of the really important stuff can actually be accessed and understood using the game's own tutorials, a first for these kind of games (normally you need community-driven FAQs to help you get your head around things).
WHY: It's like being the Game of Thrones. You build castles and invade Kingdoms, but you also get to bang courtiers and humiliate that disappointment of a son you banished to Wales .
Crusader Kings II
Developer: Paradox Interactive
Platforms: PC (Version played)
Released: February 14
Type of game: Real-time Kingdom Simulation.
What I played: Played a number of singleplayer games as England, Scotland and The Holy Roman Empire. Will update with multiplayer impressions if I can find the time/opponents.
Two Things I Loved
It's an all-encompassing simulation of the management of a medieval kingdom, breathtaking in its scope.
It's an all-encompassing simulation of the management of a medieval kingdom, breathtaking in its scope that also has a soap opera bolted onto the side.
Two Things I Hated
The game is reliant on you clicking hundreds of different buttons, regularly. Unfortunately, dozens of them are buried in places that are tough to find.
There's so much to learn and do that the game needed a good tutorial. It doesn't have one.
Made-to-Order Back-of-Box Quotes
"Medieval Europe, why do you hate gay people?" - - Luke Plunkett, Kotaku.com
"The most fun you can have with your breeches on!" - Luke Plunkett, Kotaku.com