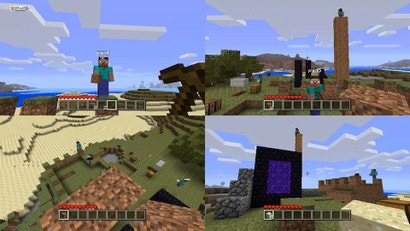 Minecraft on Xbox 360 is a lot of fun, and has sold incredibly well. One of the coolest things about the game is that players can enjoy crafting alongside their friends via local split-screen multiplayer.
Unfortunately, as it turned out, you could only do that if you had an HDTV with an HDMI input — standard-definition gamers were unable to take advantage of one of the game's best features.
The HD requirement wasn't listed in on the game's Xbox marketplace page, leading many gamers to buy the game hoping to play with their friends, only to find that they were unable to. Some got refunds, but others did not.
A Microsoft Spokesperson has notified Kotaku that the store-page for the game has been updated, and that Microsoft is planning to offer a full refund to anyone who purchased the game prior to the page's update.
We updated our pre-sale notification to inform customers that an HD screen is required for the split-screen multiplayer feature on 'Minecraft: Xbox 360 Edition.' If a player does not have an HD screen and purchased this game prior to the notification update, they are eligible for a full refund through customer support.
Indeed, checking the Xbox Live product page reveals an updated description ending with the notification that "To experience split-screen functionality a high-definition television is required."
Good on ya, Microsoft.