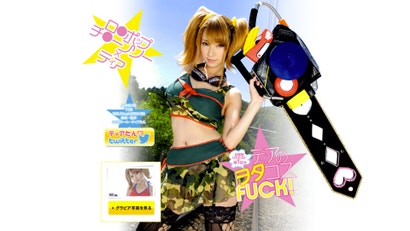 You know the rule: If it exists, there's a porn of it. Well, video game Lollipop Chainsaw exists (we have the review to prove it).
And now there is the inevitable adult video version of it.
Slated to be released next week, the movie is called Tia's Geek Cosplay F**K! (ティアのヲタコスのF**K!) and it comes per request of Tia's fans, apparently.
Tia even dresses up in the various, special outfits Lollipop Chainsaw offered.
These folks not only know their video games, but their correct F-word usage!
Of course, there's more than dressing up. This is hardcore pornography, with erect penises and a naked lady, wielding a chainsaw. What possibly could go wrong?
ティアのヲタコスのFUCK! [NSFW E-Body via オレ的]