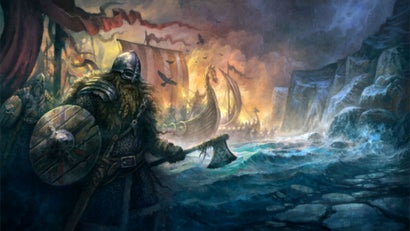 Niche PC publishers Paradox held a big event yesterday, unveiling a range of new titles and DLC for existing ones. The one I'm most excited for is The Old Gods, a Viking expansion for my 2012 GOTY nominee Crusader Kings II.
In the game, until now, the Pagan and Zoroastrianism religions had been denied to player characters; they're now on the table, with particular attention given to the Vikings, who now get all kinds of fancy features like looting, pillaging and sacrifices, along with a new earlier 9th-century start date for the game (it previously began in 1066).
Due out in Q2, it will cost $US15.
Other things announced at the event include some new DLC for medieval combat game War of the Roses (starring Brian Blessed!), an expansion for Victoria (involving the race for African possessions in the 19th century), a tablet version of Magicka and a new game, top-down strategy title Leviathan Warships.