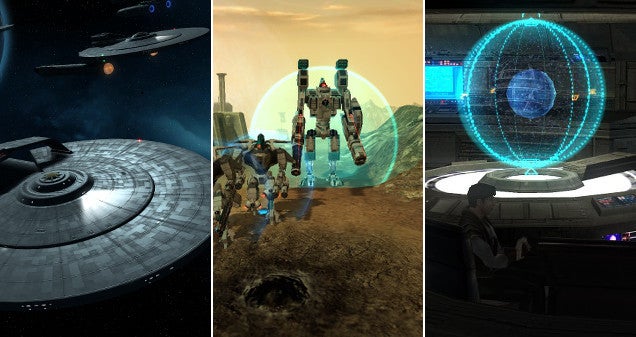 One of the biggest PC game modding sites, Mod DB, has been running their annual Mod of the Year competition throughout the month, inviting their members to nominate and vote for their favourite mods.
Following the nomination process in early December, which resulted in the creation of a Top 100 list, Mod DB announced the ten most popular mods after tallying a total of 131,789 votes. So, without any further ado, Mod DB's 2014 mods of the year are:
A patch that restores the majority of the content cut from Obsidian's infamously unfinished Star Wars RPG, Knights of the Old Republic II.
A gameplay overhaul mod for real-time strategy game Command & Conquer 3: Tiberium Wars which adds several units and balances out the rest, upgrades the sounds and visuals, and puts the campaign in an alternate universe scenario based on the earlier Tiberian Sun.
This total conversion takes real-time strategy game Star Wars: Empire at War: Forces of Corruption from its original setting, and moves it to that of the Clone Wars, with the Empire and the Rebels being replaced by the Galactic Republic and the Confederacy of Independent Systems.
A gameplay expansion mod that aims to bring Relic's first Dawn of War real-time strategy game "close to perfection" by adding new content and gameplay mechanics.
A Star Wars total conversion for the space-based 4X strategy game Sins of a Solar Empire: Rebellion, based on a similar Homeworld 2 mod called Star Wars: Warlords.
A fan expansion for EA's Battle for Middle Earth II: Rise of the Witch King that tries to create the ultimate Lord of the Rings strategy game by "overhauling every aspect" of the original game, including its visuals, its gameplay, and its lore.
A DayZ-like zombie survival mod with a PvP focus and squad mechanics for Bohemia's military FPS, Arma 3.
A standalone fan expansion which aims to massively improve the original S.T.A.L.K.E.R. FPS/RPG, Shadow of Chernobyl, adding in features from later games, restoring cut content, and overhauling the gameplay, visuals, and balance.
Another Sins of a Solar Empire: Rebellion mod, this total conversion puts the game in the Star Trek universe, adding five new playable factions, including the Borg, the Klingons, and the Federation.
Following last year's winner, Just Cause 2 Multiplayer, this year another multiplayer mod took the majority of the votes. Currently in open alpha, Euro Truck Simulator 2 MP adds a multiplayer mode to SCS Software's free-roam driving/management sim, letting you carry out jobs with other players online.
---
Mod DB also published a list of the top five upcoming mods of 2014, chosen from a pool of mods that received votes but are not yet playable. Here, the winner is Enderal - The Shards of Order, a total conversion/fan campaign for The Elder Scrolls V: Skyrim and sequel to the 2010 Oblivion total conversion, Nehrim. Mod DB's own Editor's Choice awards crowned Double Action: Boogaloo, a standalone multiplayer Source mod inspired by 90's action movies, as the winner.

Separately from the Mod of the Year awards, Mod DB's sister site, Indie DB, had its own voting to determine this year's Indie of the Year and App of the Year, with the winners being battle robot building game Robocraft and iPad point n' click adventure Steampunker, respectively.

Mod of the Year, Upcoming Mod of the Year, Editor's Choice [Mod DB]

Indie of the Year, App of the Year [Indie DB]