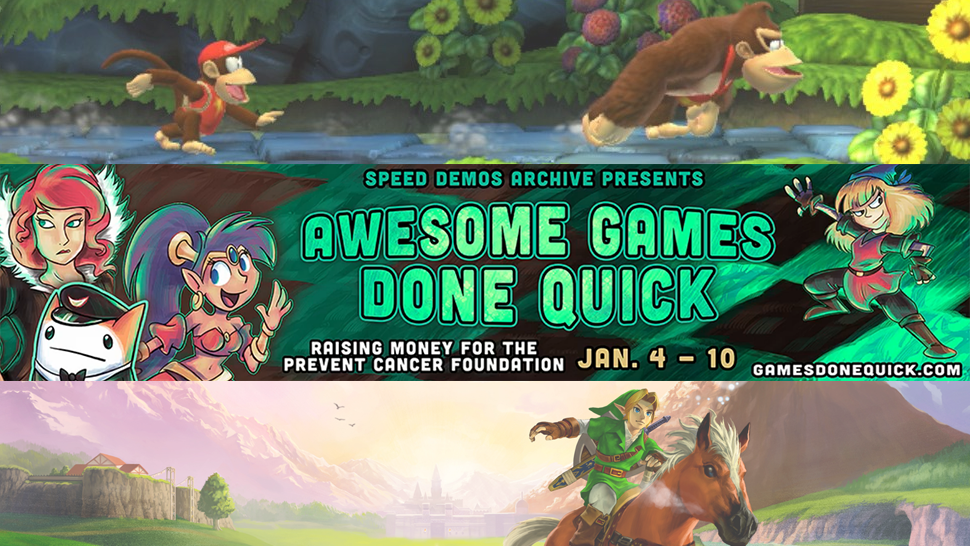 The 2015 Awesome Games Done Quick marathon kicks off today, with an entire week of non-stop gaming speedruns benefiting the Prevent Cancer Foundation. This year the assembled speedrunners are playing *checks schedule* everything.
The action kicks off at noon Eastern time today with a run through Donkey Kong Country Tropical Freeze and finishing off on Saturday evening with a sprint through The Legend of Zelda: Ocarina of Time. Sandwiched between those two is everything from Shovel Knight to Mega Man to Blasto — people are going to play Blasto during this event. How odd. You can check out the full schedule here.
Along with proceeds from the official t-shirts at The Yetee and its own Humble Bundle, Awesome Games Done Quick 2015 will also be accepting donations all week long. I'd suggest checking the schedule, seeing if your favourite games have special donation-powered run tweaks, and saving up your good will for those special moments when your money will make a difference both against cancer and whichever speedrunner is taking on your game of choice.
If anyone needs me, I'll be glued to Twitch all week long. I love this damn event.