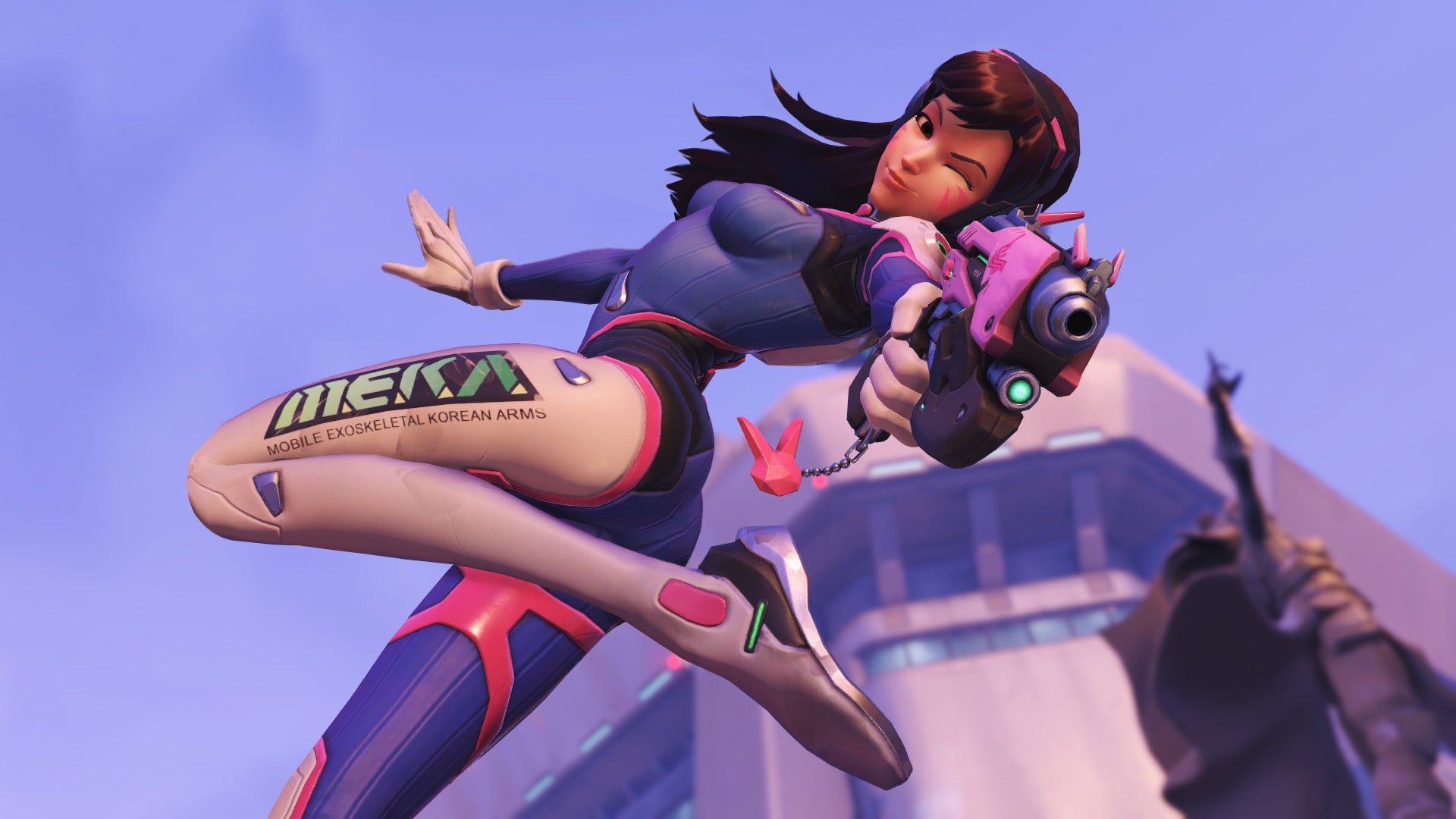 Earlier today, Blizzard announced that due to an Overwatch bug, D.Va had been temporarily removed from the game.
[Image: Blizzard Entertainment]
This message popped up in Overwatch this afteroon, surprising players.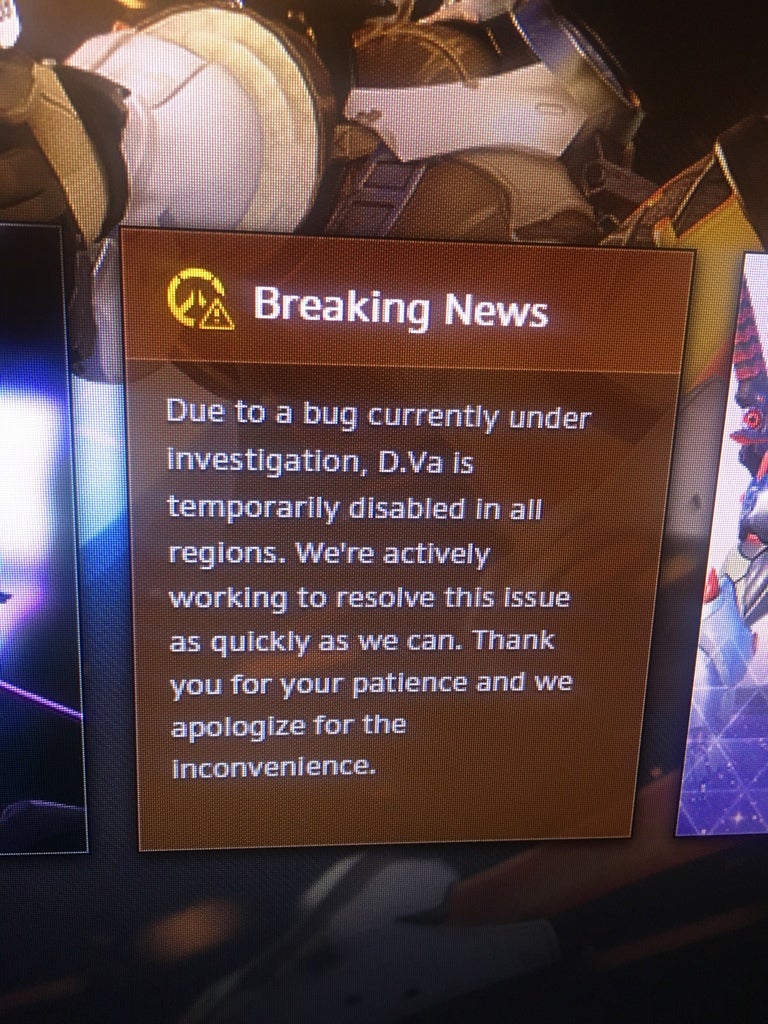 [Photo: Riley MacLeod | Kotaku]
A short tweet also appeared on Blizzard Entertainment's official Twitter:
[#Overwatch] Due to a bug currently under investigation, DVa is temporarily disabled in all regions. Thank you for your patience!

— BlizzardCS (@BlizzardCS) April 28, 2017
Over on Battle.net, Blizzard provided more details, explaining why D.Va had been temporarily disabled. You can read the official statement below:
Following the release of today's 1.10.1 patch, we've seen a significant rise in the number of reported client crashes. Based on our investigation, we've determined these crashes are very likely connected to D.Va's presence within a game.

Due to the impact of this issue, we have temporarily disabled D.Va in all regions on PC, PlayStation 4, and Xbox One as a precaution while we continue to troubleshoot. We don't have an ETA to share right now for when D.Va will again be playable, but this is currently our top priority and we will be sure to provide updates in this thread as they become available.

Sincere apologies for the inconvenience, and thank you so much for your patience!
With no ETA provided on when she would return, people online reacted to the decision:
Please reach out if you've seen her @PlayOverwatch #overwatch @manfightdragon pic.twitter.com/zgETBwBzAL

— Brent Waller (@BrentOnInternet) April 28, 2017
what's a D.Va main to do? @Blizzard_Ent pic.twitter.com/1HhZ8YfgNg

— ?? (@AchillesHiHeels) April 28, 2017
Many people, especially those who use D.Va as their main, were not happy.
MRW D.Va is disabled@BlizzardCS #overwatch #Dva pic.twitter.com/OgrqIKGxao

— Miss Breezy (@MissBreezy89) April 28, 2017
DVA is bugged?! ??
Streaming OW without herhttps://t.co/rLKZZdLkQO @Retweet_Twitch @twitchraid pic.twitter.com/Q2nIpjgJJv

— Conrad (@TH3FVLLENON3) April 28, 2017
D.VA is disabled from all regions. Fffuck!

— Rayn3Cl0ud Gaming (@halberdrayne) April 28, 2017
wow i cant believe we live in a world w/o dva

— sparrow (@hipstersparrow) April 28, 2017
When you're a #Dva main about to play #Overwatch but then you see she was disabled pic.twitter.com/OcfePDQdcK

— CMGordo (@CMGordo92) April 28, 2017
d.va being disabled in teh game is the saddest :(

— Rayla (@raylalivetweets) April 28, 2017
Why the fuck is D.Va disabled? I'm a D.Va main goddammit lol

— Jake Gorretta (@guwopgorretta) April 28, 2017
My sweet D.Va come back to meeeeee! Lol @Blizzard_Ent @PlayOverwatch pic.twitter.com/CmymjJVgwX

— PinkPrincess (@PinkPrincessWuv) April 28, 2017
Thank you @BlizzardCS for not telling anyone that d.va was removed from all forms of play in overwatch until you are in game. I love losing.

— Macgyver (@JohnDubberke) April 28, 2017
when d.va is disabled pic.twitter.com/Uxxvhfanbr

— rowan (@littledoerowan) April 28, 2017
Those who play against D.Va, however, did sound pleased.
The world is perfect dva is disabled pic.twitter.com/Q9KRpD8bEE

— twoson (@paperclip3d) April 28, 2017
"Due to a bug currently under investigation, D.Va is temporarily disabled" pic.twitter.com/5NAnUpBzxB

— Caitlin Blenz (@MorbidReveries) April 28, 2017
wait they removed dva from overwatch thank god

— Siel (@Garurusama) April 28, 2017
Holy shit I'm playing Overwatch like a god since D.Va is disabled right now

— AzuP☆☆★ (@AzuReverie) April 28, 2017
time to get a few overwatch games in while dva is dead

— dan ? (@DanxDeathcore) April 28, 2017
Around three hours later, Blizzard announced that D.Va had returned to the game:
[#Overwatch] Thanks for your patience while we addressed this issue. D.Va is now enabled in all regions on all platforms.

— BlizzardCS (@BlizzardCS) April 28, 2017