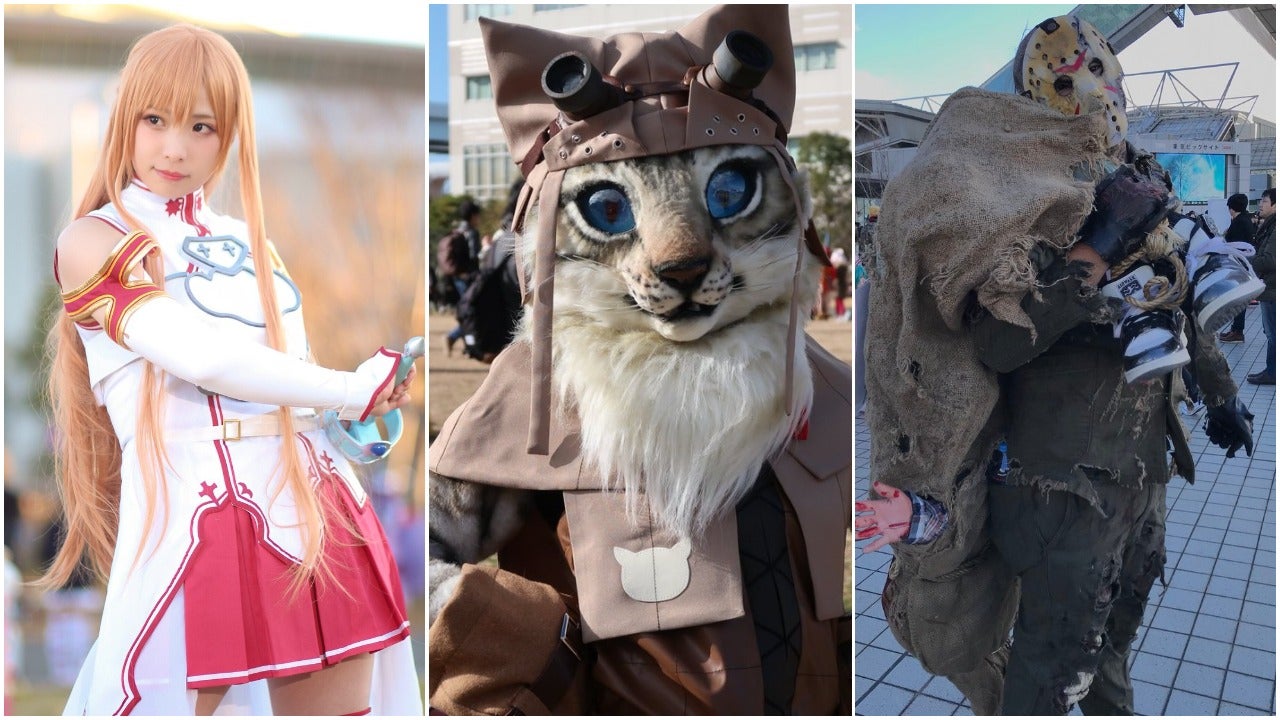 It's late December. Almost January. And at the end of every year in Japan, there is one event in which cosplayers can strut their stuff.
[Images: nandakaomo | hmwr_ | scy_005]
The twice-yearly Comic Market not only is a gathering for doujinshi fans, but also cosplayers. 
Here are some of the best — and most amusing — cosplay from Comiket's first day!
この△様ほんとうにクオリティ高すぎて困惑したですなぁ#コミケ93 #コスプレ#C93コスプレ pic.twitter.com/EINkFvDwWy

— ぽんぽこ@広島のまろにあん (@ponpoco322) December 29, 2017
サーバル現れる #C93 #コミケ93 #冬コミケ #C93コスプレ pic.twitter.com/ZT9VBcI5Pp

— なる柚@C931日目と3日目参戦予定 (@report_anime) December 29, 2017
#C93コスプレ pic.twitter.com/jB37FeNLpm

— あさぎ@オレ達記念日 (@cremisi0526) December 29, 2017
C93.*・゚
SAO/アスカ
model*贤儿Sherryちゃん
(@sherryken777 )

#C93コスプレ
#コミケ93 #コミケ pic.twitter.com/drt3MU98sZ

— ひまわり/種????c93 (@hmwr_) December 29, 2017
今日はコミケなんですね。
気づけば1度もメイドールズちゃんを派遣出来ていません。

一度は出したいのですがかさばるキャラクターなので会場にいたら迷惑で移動も困難だろなぁ#コミケ93 pic.twitter.com/EhIZac2rMM

— こにししのぶ (@ayanami626) December 28, 2017
【速報コス写真】「となりのトトロ」トトロ【許可済】
#C93 #C93コスプレ #コミケ93 #C93コス pic.twitter.com/FWjMQFw64w

— みどり@C93全日カメコ (@midori_otk) December 29, 2017
転売厨の末路
コミケ93コスプレ #c93 #c93コスプレ pic.twitter.com/gYXfaroiye

— だい@なんだかおもしろい (@nandakaomo) December 29, 2017
お写真貰いました!
この中に参加できたことでもう涙が、、、.˚‧º·(ฅдฅ。)‧º·˚.#c93コスプレ pic.twitter.com/1PrIw8cpIP

— ライダー中島@冬コミ初参加 (@ssGQP9UALStxn8U) December 29, 2017
すごいかっこいいじぃじがいた!????
リクエストにこたえて指差してくれたやさしくてかっこいいじぃじ!#C93コスプレ pic.twitter.com/FDiEz8U4CO

— あるふぁ とな3日目邪ンヌ (@alfa_engine) December 29, 2017
今年も紅の豚さん!
コミケ93コスプレ #c93 #c93コスプレ pic.twitter.com/0v98rouQQF

— だい@なんだかおもしろい (@nandakaomo) December 29, 2017
永遠のヒーロー、仮面ライダー!!! pic.twitter.com/1zR6zPTgh8

— キユリノ@冬コミ2日目オーディン (@3821_kiyurino) December 29, 2017
モンハン組ございます#c93コスプレ pic.twitter.com/1EfsJuSYVd

— scy (@scy_005) December 29, 2017
MS
コミケ93コスプレ #c93 #c93コスプレ pic.twitter.com/BAkTHn16Bv

— だい@なんだかおもしろい (@nandakaomo) December 29, 2017
かっこよかった、まる #C93コスプレ pic.twitter.com/l84l0kCdJN

— Yuki Hayashi C93日曜ノ-25a (@necamax) December 29, 2017
つ、強そう#C93コスプレ pic.twitter.com/Z5Dk1epHI2

— じゅんと (@fhayatuu) December 29, 2017
いっ!岩田社長!生きてたんですか?!?!#c93コスプレ pic.twitter.com/jNIZrVXD4x

— きゃな (@KyanaCameraP) December 29, 2017
たっかw w w
#C93コスプレ pic.twitter.com/Vr7CabYBmw

— 中二病な男子大生 (@chu2byo_tani) December 29, 2017
なんのタイトルかわからんかったけど、かっこよかた、まる #C93コスプレ pic.twitter.com/ZGy7ZQq5zL

— Yuki Hayashi C93日曜ノ-25a (@necamax) December 29, 2017
ポプテピピック再現度高すぎでしょw #C93 #C93コスプレ pic.twitter.com/kBGXPShx6w

— メイドインサイタマ (@saitamakita) December 29, 2017
カービィの中から何か出てきた。ちなみに声は女性でした。#c93#c93コスプレ pic.twitter.com/tJsh1PB3t5

— セージP@超英雄祭参加予定 (@sage13161) December 29, 2017
もう一枚。#C93#C93コスプレ#冬コミ#豪鬼#ストリートファイター5#清水泰地 pic.twitter.com/2NUJKtE1MZ

— よーいち (@Yo__ichi) December 29, 2017
セルティ美しかった
【 @ruru_cos14 】

#C93コスプレ pic.twitter.com/0zIPleK2AG

— うい (@uico_fu_fu) December 29, 2017
#C93コスプレ
神檀黎斗&仮面ライダーゲンムゾンビゲーマー
まさかの邂逅 pic.twitter.com/Y1P9Xiai1Q

— 石神尽(イシス)@2日目トゲデマル (@ishiga_mix) December 29, 2017
Nintendo switch のコスプレ ディスプレイすげぇ!!#C93COS #c93 #コスプレ pic.twitter.com/6LRhXZpExF

— [email protected]コミケ1.3日西IOEA (@Ani_9_) December 29, 2017
素晴らしいジョジョコス
コミケ93コスプレ #c93 #c93コスプレ pic.twitter.com/qEHKDqG9Hf

— だい@なんだかおもしろい (@nandakaomo) December 29, 2017
#C93 グレープ君のコスプレ可愛かった(*´ч`*) pic.twitter.com/qxlctCXGGW

— [email protected]実況 (@i_onion) December 29, 2017