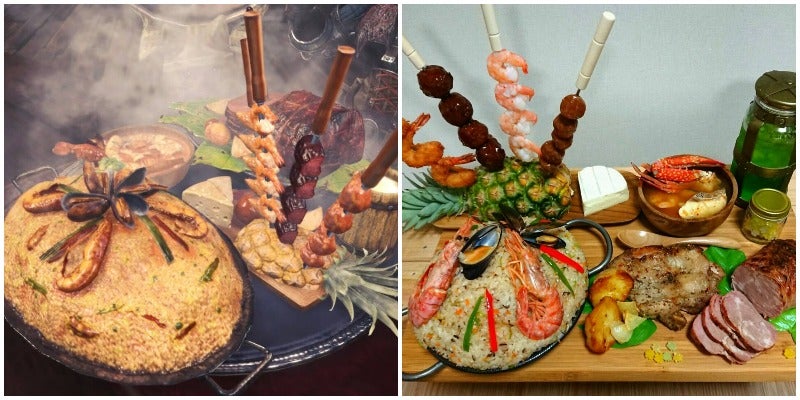 Why just look at the food in Monster Hunter when you can make it in real life? Just look at how the real deal compares to the in-game version.
[Image: kixki8539742]
Twitter user Ki-ki's wife created this real-life version of "Hunter food".
オレの嫁がハンター飯を作ったらしいです。本人喜びますんで、良いと思ったらRT&いいねを是非宜しくお願いします pic.twitter.com/iguwh8BxZJ

— ki-ki (@kixki8539742) February 12, 2018
It looks way better than the official version being served up at the Capcom Cafe in Saitama, Japan.
【レイクタウン店】話題のハンター飯も食べられる『モンスターハンター:ワールド』とのコラボ開催中!多人数でシェアできる「ハンターの食事 大人数Vr」やドリンクに追加で頼める回復薬ボトルは本作の世界感をばっちり味わえます! https://t.co/PrvPCYVsOr #カプコンカフェ #MHW #モンハンワールド pic.twitter.com/V5Inwfcy32

— カプコンカフェ (@Capcom_Cafe) February 13, 2018
解毒薬www
リアルハンター飯 pic.twitter.com/N6BXrkXtnW

— ピジョン(モン)ブラン (@pigeon_blanc_r) January 29, 2018
キターーーー!ハンター飯大人数Ver. 食べる〜♪(*´﹃`*)〜♡すげぇ!肉だ!エビだ! pic.twitter.com/kRcAli0O6T

— 陽子 (@kansixyu) January 19, 2018
But hey, that looks pretty good, too.