It's feels like the wrong time of year to announce another game of the year but BoardGameGeek likes to let their users play the games before voting on them for the Golden Geek awards.
To the complete surprise of nobody, the top-ranked game on BoardGameGeek, Gloomhaven, has dominated the awards.

BoardGameGeek is a trove of information that helps keep the online board gaming world intact. Useful for tracking stats and finding out about board games, it's also used by board game designers and publishers to post FAQs and other resources players want. It's a bit like IMDb except people value the information on BoardGameGeek.
Tucked behind all of that is a thriving forum.
Those forum users occupy a very niche spot of the internet but they're a dedicated and informed lot. Now these users have cast their vote on the best board games of the year in the 12th annual Golden Geek awards.
<em>Gloomhaven</em> clings hard to its D&D roots, featuring a unique cast of character that adventure through dungeons fighting monsters, levelling up and getting more unique. Although the mechanics are quite different and unique, for one thing there aren't any dice.
Read more
Gloomhaven crushed the competition, picking up Board Game of the Year and wins in five other categories. In fact the only category that Gloomhaven was eligible for that it didn't win was 'Artwork and Presentation'.
Here's the full list of winners:
Board Game of the Year – Gloomhaven
2-Player Game – Codenames Duet
Artwork & Presentation – Photosynthesis
Card Game – Century: Spice Road
Cooperative Game – Gloomhaven
Expansion – Scythe: The Wind Gambit
Family Game – Azul
Innovative – Gloomhaven
Party Game – Werewords
Print & Play – My Little Scythe
Solo Game – Gloomhaven
Strategy Game – Gloomhaven
Thematic Game – Gloomhaven
Wargame – 878: Vikings – Invasions of England
Best Podcast – Rahdo Talks Through
Best Board Game App – Through the Ages
Gloomhaven is an absolute behemoth of a game where players go out on adventures, improving their characters through the game's legacy mechanics that makes permanent alterations as you play. There's a lot of game to be had. Not just content wise but physically too. The box weighs almost 10kg.
As much Gloomhaven as designer Isaac Childres could fit on a convention table. Image: BoardGameGeek
Copies are incredibly hard to find right now as the game is between print runs and the vast majority of copies were only made available to Kickstarter backers. Yet despite its rarity, Gloomhaven has captured the attention of the board gaming world and won't let it go.
The only game to topple Gloomhaven in the many categories it was nominated in was Photosynthesis, a gorgeous brain-burner about growing trees that won the 'Artwork and Presentation' category.
It's rare that a board game's mechanics perfectly reflect its theme; often, it seems that designers could have costumed their gameplay idea in any sort of outfit, and it would lose nothing except perhaps marketability. <em>Photosynthesis</em> is not like that.
Read more
Photosynthesis doesn't coast on it's pretty looks. It's a game that requires a lot of forward-planning as you try to plant your trees in the right places to harvest the most light – the game's currency used to plant and grow trees – while blocking your opponent's light. Finding a way to sequence your turns optimally as the sun rotates around the board is surprisingly difficult. Surprising and satisfying.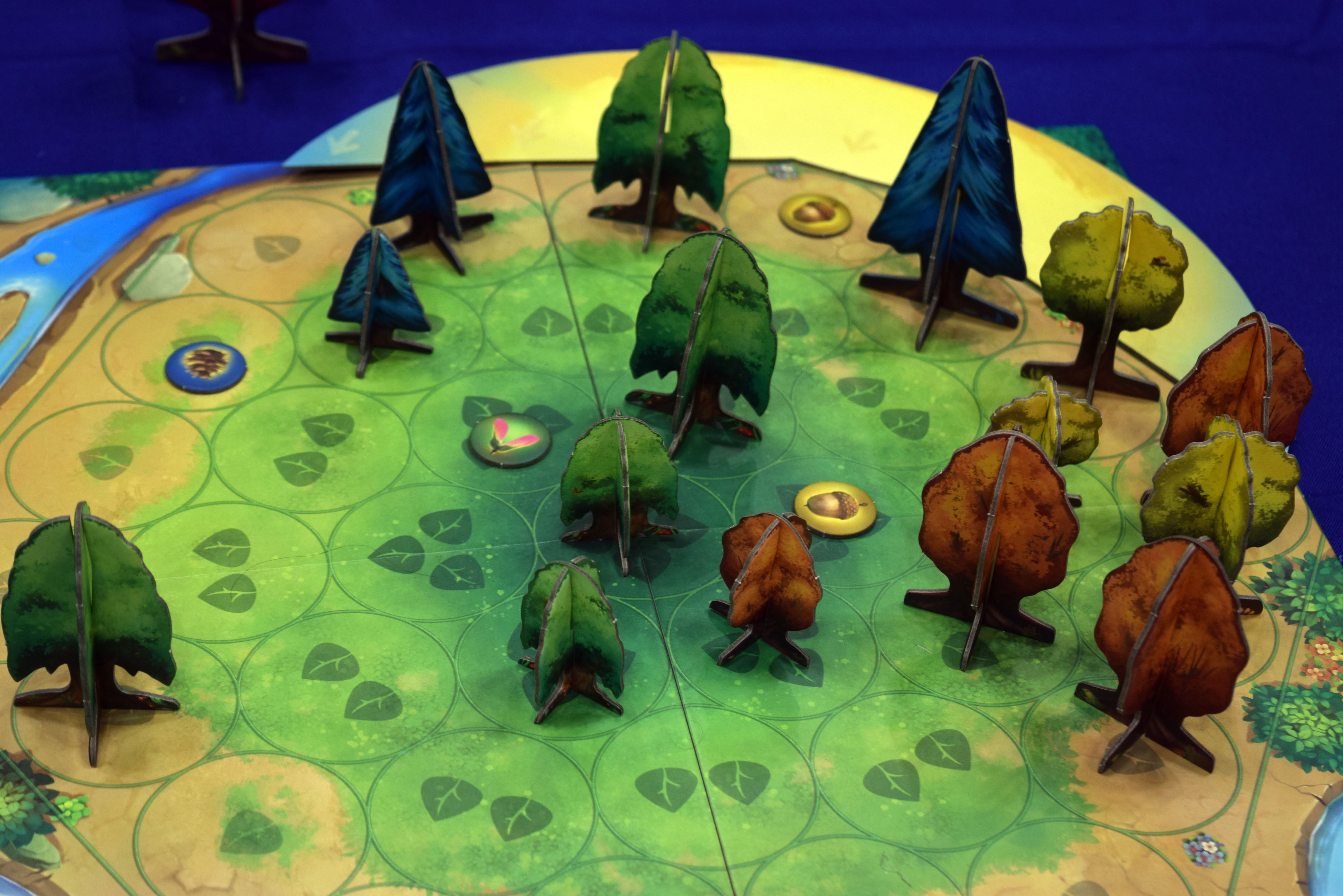 A fun little surprise to come out of the Golden Geek awards is My Little Scythe. The winner of Best Print and Play, My Little Scythe is a family-friendly remake of the immensely popular Scythe. How did they make a game about moving mechs about a war-torn landscape family friendly? With My Little Pony, obviously.
It's such a novel combination that I'm willing to put aside my general dislike of Scythe to give it a shot.