In 1991, Deadpool premiered in New Mutants #98, drawn by Rob Liefeld. Now, art from that landmark comic book is up for auction, and it can be yours if you're willing to shell out the cash.
It's a lot of cash, though. The page, which features the original art for page 15 of New Mutants #98, currently has the winning bid at $US30,000 ($39,083). The simple, five-panel layout features Deadpool in his first appearance hunting down Cable. In this early appearance, the mercenary is more a Deathstroke the Terminator-alike than he is the later Merc' With the Mouth, but you can already sense a dynamic sort of chemistry between the assassin and the, uh, time-travelling assassin that would come to be an important facet of both characters down the line.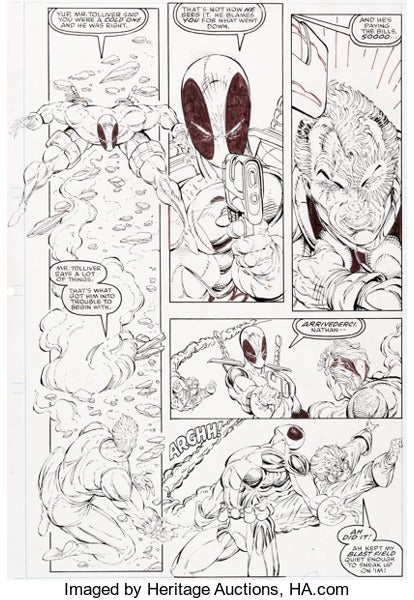 Image via Heritage Auctions.Illustration: Rob Liefeld
There are eighteen days left for the initial bidding for the auction, which you can check out here.
Deadpool 2 will be out in theatres May 17, starring Ryan Reynolds as Deadpool and Josh Brolin as Cable.
[via ComicBook.com]