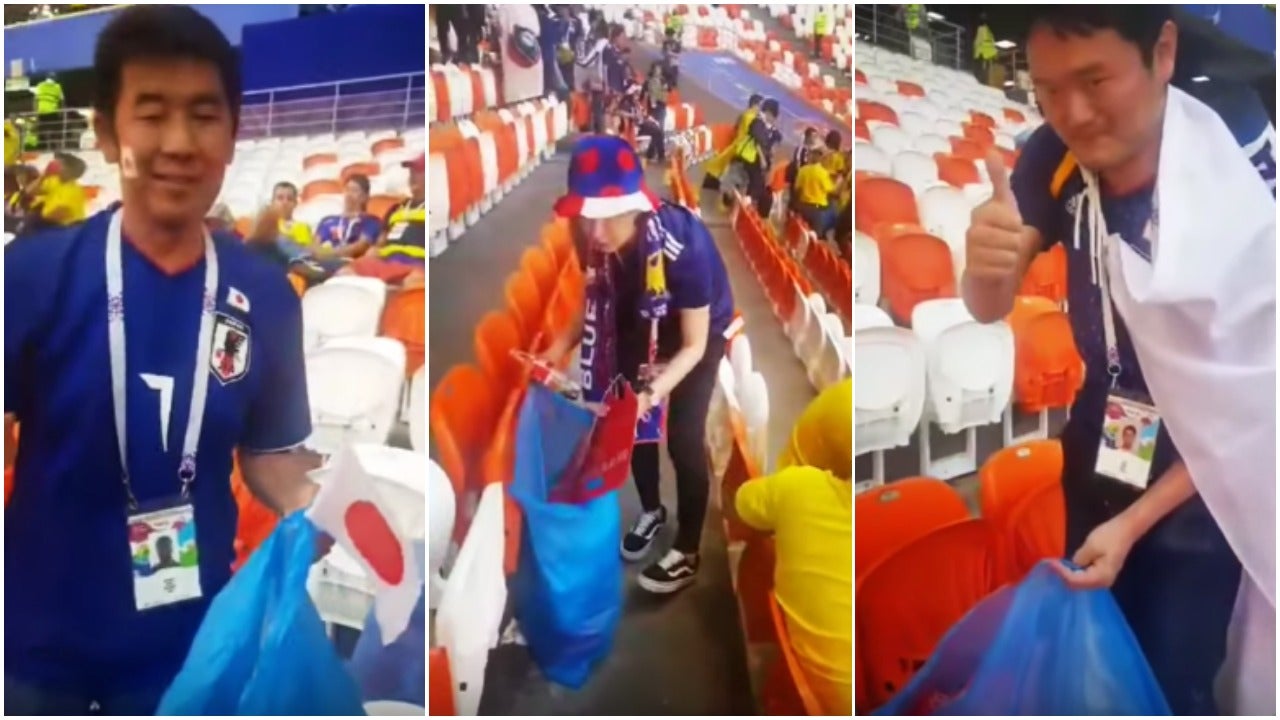 After the Japan vs. Columbia World Cup game, it wasn't only Japanese soccer fans who were cleaning up after themselves. Colombian fans were, too.
Back in 2014, the world really started to notice the tidying up habits of Japanese soccer fans.
Certainly, while there are Japanese people who litter (they're jerks!), folks are taught from a young age to pick up after themselves. For example, grade school kids in Japan clean their own classroom and school, including the toilets, instead of hired help.
[EJEMPLO] Hinchas de Japón se quedaron limpiando el estadio luego de la victoria ante Colombia. #Rusia2018 pic.twitter.com/gqM1USGLyL

— DEPORTV (@canaldeportv) June 19, 2018
すごい。青い袋なんだろうと思ったらゴミ袋!きちんとゴミ拾いをしている日本サポーターの方々????
素晴らしいです????✨#ワールドカップロシア2018 pic.twitter.com/lfFyENHfDT

— 小林沙弥香 (@Kobayashisayaka) June 19, 2018
日本のサッカーファンは勝利すると、スタジアムを掃除する。他の国は勝利すると、街を壊していく・・・[まとめ] https://t.co/6aEhubJ1BT pic.twitter.com/zT1IiAZcgc

— DIGITAL-SOCCER.NET (@digital_soccer) June 20, 2018
Trash bags are even used to cheer on the Japanese team!
私達日本代表のサポーターは、青いゴミ袋を持って「NIPPON」と叫びながら応援します。
ゴミ袋は応援グッズになると共に、試合後にゴミ拾いをする時に使います。これは、日本人の思いやりの精神に基づいています。#myfootballheritage#Japan pic.twitter.com/Alj60vFHG3

— あいらぶさっかー (@ZOKxsOC9oFY6AWC) May 16, 2018
As Hachima Kikou notes, other fans are following suit, such as these tidying-up Columbian and Senegalese fans.
コロンビアサポーターが素晴らしいかった。
何人もからコングラチュレーション言われた。
僕らの青袋取って、ゴミも一緒に拾ってくれた。

逆の結果で、僕らはできるだろうか?
サッカーの奥は深いね pic.twitter.com/4gE7HOb6Up

— ちょんまげ隊長ツンさん@12時スタジアム (@tsunsan) June 19, 2018
試合後ゴール裏を掃除する日本とコロンビアのサポーター。すごいぞワールドカップ。からのタクシーで急いでモスクワ行き夜行列車に乗るためにルザエフカに移動。駅前でお祭り的屋台が出ていてぺろり!ステグル旅的展開。炭火焼チキンおいしい。あと突如展開されるペッピーノ一座っぽい劇団。 #トモロシ pic.twitter.com/KmQwkhqrn5

— 能田 達規 (@tatsukino) June 19, 2018
#TyCSportsMundial Senegal consiguió un triunfo histórico. Pero sus hinchas en lugar de festejar a minutos de terminado el partido, se encargan de limpiar su sector antes de retirarse. #RESPECT. pic.twitter.com/RiKovpfmoT

— TyC Sports (@TyCSports) June 19, 2018
The World Cup is on its way to becoming the cleanest sporting event on the planet.