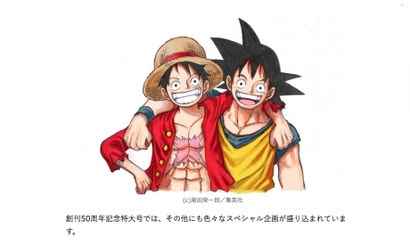 Screenshot: Shonen Weekly JumpScreenshot: Japaaan
For an upcoming Shonen Weekly Jump, One Piece creator Eiichiro Oda drew Luffy with his arm around Dragon Ball's Goku.
According to website Japaaan, the issue will go on sale July 14 in Japan and features a chat with Dragon Ball creator Akira Toriyama and Slam Dunk creator Takehiko Inoue.
こち亀の新作も!週刊少年ジャンプが50周年記念号を発売、歴代作家の企画目白押し|Japaaan https://t.co/7j4QRGyNq5 #漫画 #jump #週刊少年ジャンプ #manga pic.twitter.com/8sDB0pKQJC

— Japaaan (@japaaan_com) July 9, 2018
Oda, who is a massive Toriyama fan, also did another Goku drawing (below), congratulating Weekly Jump's anniversary for its 50th anniversary.
「こち亀」復活!久保帯人の新作読切も!週刊少年ジャンプ、創刊50周年で記念特大号 - BIGLOBEニュース https://t.co/VnK3hjq9dF #こち亀 pic.twitter.com/7bCt6X8YHa

— BIGLOBEニュース (@shunkannews) July 8, 2018
For more, check out Weekly Jump's official site in Japanese and in English.