Cool Boarders 2, Destruction Derby, GTA 1. These are good. This are fine.
But the PS Classic ... well, it's missing a few things. Here's our suggestions for what the PS Classic should have had.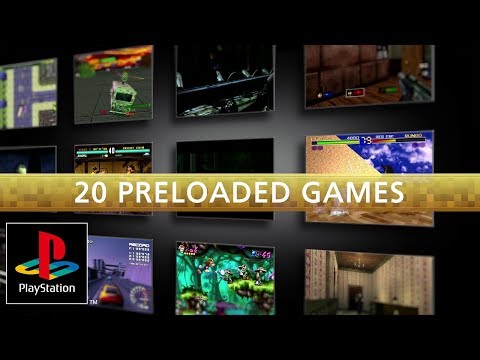 Sony has released the full list of 20 games that will be on its miniature PlayStation Classic, and while there are some nice ones on there (Metal Gear Solid, Wild Arms), there are also some baffling decisions. No Tomb Raider, no Crash and... no Suikoden 2.
Sentinel 2000
A weird pick out of left field from Lifehacker's Chris Jager, Sentinel Returns was a quirky puzzler from British studio Psygnosis. Psygnosis has some representation on the PS Classic with Destruction Derby, but that's a whole different beast from this sequel to Sentinel.
The general idea was that you could build structures to climb higher and higher, which you could then build robots on. You could them transfer your consciousness into those robots, slowly moving higher and higher.
I have absolutely no doubt that Sony would have never considered this game in a million years. But it's an unusual puzzler from the PS1 era that definitely stands out.
Gran Turismo
How do you not include anything with that soundtrack on the PS Classic. What are you doing, Sony.
Wipeout/Wipeout XL/Wipeout 2097
I know the current gen finally has a Wipeout remaster, but it would have still been amazing to have this on the PS Classic. My guess is that licensing issues were the kicker here. It was part of the reason why Wipeout had a different soundtrack across Europe and North America - Chemical Brothers' Chemical Beats wasn't on the NA version, for instance.
But if I think back to classic PSX games, Wipeout is still close to the top of the list. A pity.
Vib Ribbon
Procedural generation is pretty common these days, but building tracks based off the music in your CD drive - in 1999 - was a different beast altogether. That was the magic of Vibri and Vib-Ribbon though, a wireframe game about a rabbit vaulting over objects, pits and dancing its way to the end.
I like the idea of Vib Ribbon on the PS Classic only because it's so visually distinct, and so different to other games at the time. Most of the fun relies on being able to pick music of your choice, and when the PS Classic has no wireless or ethernet, that's probably a technical hurdle too far.
Shane Warne Cricket 99
Still one of the best cricket games ever released. I don't care if Sony has to re-release the PS Classic exclusively here without GTA or Final Fantasy 7. It's worth it to get Shane Warne Cricket 99 on there.
Silent Hill
Konami was obviously chill with Sony republishing Metal Gear Solid on the PS Classic, even though a remastered version is available. So why not through Silent Hill on there as well? It would have paired neatly with Resident Evil and offered miles more variety than, say, Mr Driller.
Bushido Blade
If Virtua Fighter was off the table, and Street Fighter wasn't the path Sony wanted, I would have gone for Bushido Blade over Toshinden. It's just more interesting across the board for my taste, from the stages to the fast time-to-kill and body damage.
Xenogears
I'd have taken this over Wild Arms any day of the week, but maybe that's just nostalgia talking.
Ace Combat 2
Why did Jumping Flash get included and Ace Combat ignored. I can understand that Twisted Metal might have filled that style of gameplay, but man, Ace Combat 2 still holds up reasonably well today. And there's not been many games like it for a very, very long time. Missed opportunity, really.
Final Fantasy Tactics
The fact that this is on mobiles is probably the main knock against its inclusion. Even still, having Tactics on the big screen again would have made a lot of people very happy.
---
What games would you like to have seen on the PS Classic?