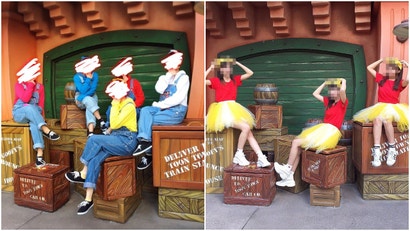 Image:
Twimurphy
,Image:
My Game News Flash
At Toon Town in Tokyo Disneyland, there is a photo spot area with a bunch of boxes. The spot has become even more popular thanks to social media. And now, it has apparently been fenced off to the public.
As My Game News Flash notes, this is what the area used to look like:
ディズニーの木箱が撤去された件。

ルールを無視とかじゃなくて、あいつらインスタ映えしか頭の中にない低脳だから英語読めないだけだよw
「ここはのってはいけません????よいこのみんな、るーるはまもりましょう!」じゃないとwwwwwwww pic.twitter.com/QMOsK57dJ6

— ぽんず (@IzpGcL5Hosjds4a) December 10, 2018
Photos like this appeared all over Instagram as well as Twitter.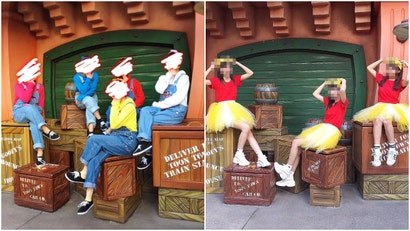 Now it is closed off.
【ディズニー事件簿】インスタ映えパリピのマナー違反が多かったトゥーンタウンの木箱が完全撤去 12/7 https://t.co/oYBFDNqMwu pic.twitter.com/SKgG4MgOR6

— ディズニー&ミッキーマウス情報局!★D垢 (@Disney_Mickey_W) December 7, 2018
What gives?
ディズニーの木箱 完全撤去。
インスタ映え♡とか言って 乗って写真撮る子が多かったから。
本当ふざけんな。
ここに乗ってた子達全員 字が読めない害児だったね
もうディズニーを汚すな pic.twitter.com/PX0Ti5MdoF

— うらあか (@aaa_shinjiro_10) December 9, 2018
The boxes say "No step" as in don't step on them. They weren't built to withstand heavy loads, but rather, for little kids to open. If they're not strong enough for people to step on, what makes someone think they're ok to sit on?
ディズニーに1回しか行ったことないから知らないけどさ、インスタ映えとか言ってルール守らないやつみんな排除すれば?
みんなでルール守ってないやつを特定して顔写真付きでネットに晒してさ。
どうせ、TwitterやってるんだからインスタもTwitterも裏垢もSNS関連全部BANすればいいのにw pic.twitter.com/eq4Ttjt4qd

— S.サフィー (@feali_safuli) December 9, 2018
Tokyo Disneyland has become increasingly popular as a play to take Instagram photos. But as Twitter user Mogumogu Drop points out, people should follow some basic rules when taking snaps.
ディズニーは楽しい
だけど好き勝手やったら他の人が楽しめない
知らなかった人はこれを機にちょっと考えてみて欲しい#拡散希望 pic.twitter.com/cubahxguFM

— ŧ‹"鍋 (@MOGUMOGUdrop) December 8, 2018
Don't climb up on stuff, don't sit in the middle of the road, and think about others when taking photos. Basic manners like that.