If it feels like Nintendo has put a ton of Mario on the menu lately, there's a clear explanation for the boom of Italian-American fare—and it's not that the Feast of San Gennaro is coming up. Not long after its April debut, The Super Mario Bros. Movie became the highest-grossing film of the year until Barbie came along, and it's still sitting comfortably at the second spot with over $US1.3 billion earned worldwide, according to Box Office Mojo. It sure seems like Nintendo anticipated this success, and planned to leverage the financial confirmation of Mario's popularity in the modern age to make even more money: by throwing a ton of Mario and Mario-related Switch games at us in the next year or so.
Plus, The Super Mario Bros. Movie introduced the titular plumber to scores of new fans: young kids, whose clumsy little digits will eventually progress enough that they can hold and use a Switch. That means a whole new group of Mario fans are looking for more Mario games right now, and Nintendo plans on delivering. If you felt like there was a Mario drought before this, there isn't one now.
All the Mario games coming to Nintendo Switch
The September 14 Nintendo Direct featured seven different Mario or Mario-adjacent games in its lineup, from remakes of classics like Paper Mario: The Thousand-Year Door to a brand-new Peach led game called Princess Peach: Showtime!. And that's not even including Super Mario Wonder, the side-scroller launching in October that enjoyed center stage at its own Direct in August. Hell, that game is even getting its very own, very plain, Mario-themed Nintendo Switch OLED.
Read More: Super Mario Odyssey, Not The Mario Movie, Gave Us The Best Princess Peach
Here are all the Mario games announced and/or featured during the latest Nintendo Direct:
Super Mario RPG: A remake of the 1996 SNES RPG, with beautiful new graphics and new features. (Pre-order now: Amazon)
Mario Vs. Donkey Kong: A remake of the Game Boy Advance puzzle-platformer where Mario has to save stolen windup toys from Donkey Kong.
Princess Peach: Showtime!: A brand-new Peach game that gives her the power to transform into different versions of herself (Detective Peach, Kung-Fu Peach, etc.) which all have different abilities.
Paper Mario: The Thousand-Year Door: A remake of a beloved GameCube RPG that mixes 2D visuals with 3D animation for some mind-bending gameplay.
Luigi's Mansion 2 HD: A remaster of the 3DS sequel (which was actually called Luigi's Mansion: Dark Moon).
Mario Kart 8 Deluxe Booster Pass Wave 6: The final DLC for Mario Kart 8 which adds new characters like Pauline and Peachette.
WarioWare Move It!: A collection of Wario-themed mini games that task you with using your Joy-Cons to complete an assortment of zany objectives. (Pre-order now: Amazon)
Nintendo will almost certainly always have a Mario release or two in any given year, as the Italian-American plumber is synonymous with the company and its consoles. Last year offered two new Mario games (Mario Strikers: Battle League and Mario + Rabbids Sparks of Hope) and the year prior gave us four (Super Mario 3D World, which was bundled with Bowser's Fury, Mario Party Superstars, and Mario Golf: Super Rush). While it was still an impressive slate of Mario-related releases, both Strikers and Golf are sports games with Mario finishes, Superstars is a party game, and 3D World was a remake with an add-on.
There are remakes coming down the pike, to be sure, but everything feels so much more robust than years prior. The molto Mario releases coming in 2023 and 2024 run the gamut in terms of gameplay, from the iconic platforming offerings of Mario Vs. Donkey Kong, to RPGs like Paper Mario and Super Mario RPG, to a brand-new Peach game, and a redefined approach to 2D Mario titles with Super Mario Wonder.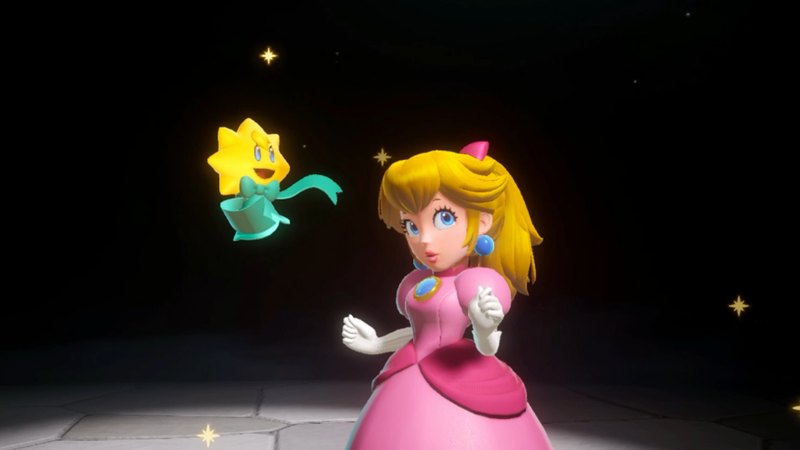 It seems like Nintendo is carefully curating what kind of Mario games it releases, with a mix of remakes of beloved titles that will cater to older fans, and brand-new games that fill gaps that have opened in the franchise as of late—like the fact that there hasn't been a Peach-led game in two decades (and the last one was sexist as hell).
A Peach-led game may not have happened anytime soon if it weren't for The Super Mario Bros. Movie, which centered the former damsel in distress and portrayed her as far more capable than Mario. In fact, she's the hero, and she has to teach a bumbling Mario how to navigate the Mushroom Kingdom. I'm unsure if Nintendo would have published a protagonist Peach game without the unilateral success of the Mario movie, especially since it doesn't seem like it's changing the questionable Peach storyline in the upcoming Paper Mario remake.
No matter what you think about the upcoming games, it's clear that Nintendo is going all-in on Mario and company in the upcoming year or so. What game are you the most excited about?