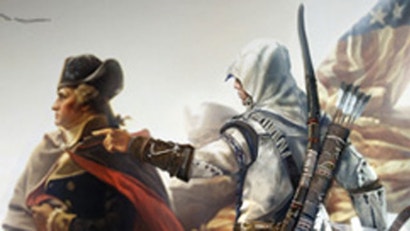 Only a few hours after we gave you the first look at what's likely to be Assassin's Creed III's new hero, website Game Informer appears to have accidentally displayed an image all but confirming its legitimacy.
The image, which has since been pulled down (but which was first captured and then uploaded by NeoGAF users), shows the same character in our image from yesterday (though he's looking a lot younger), in the same hood design, along with another shot of an assassin tapping George Washington on the shoulder.
Hey, George. What's up.
(OK, he's not really tapping, it looks more like he's pointing the way across the Delaware).
Given the proximity to yesterday's leak and the fact it's pointing towards a "hub", Game Informer's usual means of highlighting content ties to a particularly big exclusive, all signs are indeed pointing to a big reveal for the game in the coming days. If not sooner.
Bear in mind, though, none of this - including the image here - is confirmed as being authentic, so exercise a pinch of caution.
[via NeoGAF]