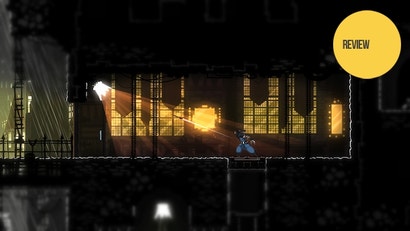 Most people might take their stealth tips from Solid Snake or Sam Fisher. Me, I'm more in tune with, uh, the Kool-Aid man. Seriously. Just burst into the room in the most reckless way possible and "problem solve" by shooting people up close in the face — that's how I do things. Patience, finesse and furtiveness aren't my thing.
So before starting Mark of the Ninja up, I assumed my brash nature would be at odds with what the 2D game required of me. I was right — at first. The game starts with the assumption that you are already a smooth killing machine, and the pith lies in the tension between a player's clumsiness and the eventual embodiment of the refined ninja. The ultimate revelation comes in the transformation, in the metaphorical gain of the black belt. The game teaches you to feel at home in the shadows, to become quick on your feet, to bear the mark of the ninja proudly, with honour. And honour is one of the most important things in the game, but more on that in a second.
This much I can tell you about the premise, because I had a difficult time piecing the narrative together and not only is it lackluster, it's not really why you'll be playing the game anyway. You're a ninja. You're a part of a clan that is endangered. And there's a corporate giant of sorts that threatens you. You bear the mark of the ninja, which is dangerous and will eventually require you to kill yourself. But before then, you're to rid the world of Evil Dudes — and you know they're evil because they hide behind their technological doodads and you, you have honour. honour means fighting with your sword, your fists, and using tools like smokebombs and bamboo daggers.
A curious approach to characterising the Ninja, given that a quick Wikipedia search tells me that though their unorthodox methods of warfare allowed them to specialize in infiltration, sabotage and assassination, it was the samurai who upheld rules about honour. Doesn't hiding in the shadows and killing people secretly strike you as...well, not honourable? Wouldn't an honorable fight mean a no frills one on one where both people can see each other? And plus, it's not like that sword and dagger aren't technology either, no? Most things around you is technology, tech isn't just stuff like computers. So Mark of the Ninja strikes me like a (typical) conflation of Asian folklore combined with a naive, but common portrayal of how technology inherently erodes tradition (and ruins everything). Still, both of these aspects inform the mechanics and the narrative immensely.
Mark of the Ninja
Developer: Klei Entertainment
Platforms: Xbox Live Arcade
Released: September 7
Type of game: 2D Stealth Game
What I played: I spent 7.5 hours playing up to the middle of the last level. I've unlocked a number of moves and tools, and have started attempting some of the challenge levels and special level challenges.
Two Things I Loved
When in the shadows, I look like I'm wearing a black shinobi shozoko — the true colour stealth — regardless of what colour it actually was.
Movement feels so good. My favourite is the swoosh you feel as you grapple from point to point.
Two Things I Hated
Make the laser puzzles stop, please.
Sometimes, though seldom, the guards would glitch out and not move and just look back and forth, making stealth impossible.
Made-to-Order Back-of-Box Quotes
Bring honour to your clan with Mark of the Ninja — Patricia Hernandez, Kotaku.com
"Huh? What's that sound?" — Patricia Hernandez, Kotaku.com